By Jim Rowland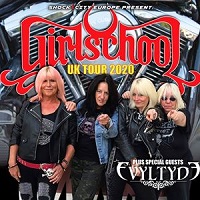 Forming an astonishing 42 years ago, apparently Girlschool are now the longest running all-female rock band of all time, and still going strong to say the least. Tonight sees them hit (and run) The Underworld in Camden for the London date of their 2020 tour, ably supported by London-based metal merchants Evyltyde, and despite the wet'n'windy January weather, there's a bumper crowd waiting to greet both bands.
Evyltyde have managed to knock out an impressive three albums and notch up close to 200 gigs in their six-year existence which is pretty prolific by today's standards. Last year saw the release of third album 'Singularity', and a healthy crowd have gathered to see them perform some songs from it, as well as the two previous albums 'Evyltyde' and 'Rising'.
Much like Girlschool, who they are well suited to tour with, they specialise in metal that packs a punch, but still has room for melody and a good song with a good chorus, and there's nothing wrong with that. 'No Violet' is a prime example, and a standout track for me tonight. There's a mixture of metal influences going on with Evyltyde, with the heavier 'Edge Of the World' having a more contemporary feel whilst the Maiden-esque 'Eye For An Eye' and the thundering 'Bullet In the Head' head more in the direction of good old traditional British metal. Vocalist Hannah Delaney has a fine voice which lends itself well to the melodic nature of songs like 'Guilty' and a relaxed, fun loving demeanour, whilst Danny Merton displays some fine guitar skills. The between song banter may benefit from the two of them not speaking over each other though, so we may be able to hear what the songs are called! A strong set received very well by tonight's audience.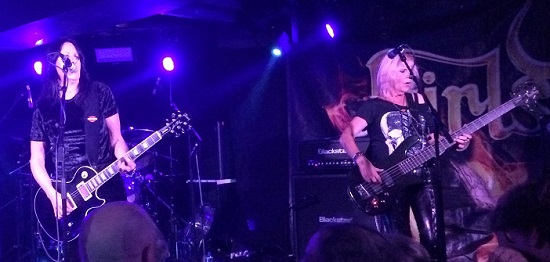 The venue is packed by the time Girlschool arrive on stage to the sound of wailing 'emergency' sirens and kick into a storming 'Demolition Boys'. Now I fully admit it's me that has taken my eye off the ball, but after the initial euphoria of being pleased at the choice of opening song, I suddenly realise that Enid is not there, and Tracey Lamb is back on bass. Turns out Enid went exactly a year ago, and I haven't seen Girlschool since 2018. So it goes in rock'n'roll. 'C'mon Let's Go' and 'The 'Hunter' follow in a set that's packed with vintage Girlschool from the first two albums. 'Guilty As Sin' and 'Take It Like A Band' (dedicated to Philthy, Eddie & Lemmy) do give us a reminder that Girlschool can still deliver a decent tune in recent times though.
But Girlschool know it's those early tunes that we turn up to hear, and they don't disappoint, with the likes of 'Hit and Run', 'Watch Your Step', 'Nothing To Lose' and the wonderful 'Kick It Down' all hitting the spot. Early singles 'Take It All Away' and 'Race With The Devil' take the end of the set onto an even higher level, with both B-sides of the 'Please Don't Touch' 'Headgirl' single, namely 'Bomber' and 'Emergency', putting the icing on the cake. Both are truly outstanding. 'Screamer Blue Murder' and ZZ Top's 'Tush' wrap things up for the encore.
Girlschool's combination of great, heavy, catchy songs and a huge sense of fun is irresistible. I've seen them numerous times over the years since I first saw them, albeit with quite a different line up, with Blue Oyster Cult in 1985. In all honesty, I don't think I've seen them better than they were tonight. Long may it continue.
The tour continues in Chesterfield tonight (Wednesday 5 February). You can find all dates HERE.
PHOTO CREDIT: Live photo by the author.
All content © Über Rock. Not to be reproduced in part or in whole without the express written permission of Über Rock.