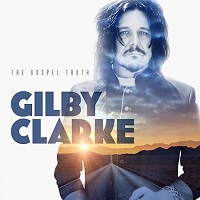 Though probably best known for his stint as rhythm guitarist for Guns N' Roses' during the 'Use Your Illusion' tour, Gilby Clarke (previously in Candy and Kills For Thrills) was already a song writer (and ghostwriter for Kim Fowley), vocalist and lead guitarist before he joined the infamous band. When the GN'R stint came along, courtesy of Slash, his role was to play Izzy Stradlin's rhythm section; but he was at heart a lead guitarist and hence never really felt at home, not that Axl gave him much chance to settle…
Since leaving GN'R due to the difficult relationship he had with Axl, Clarke remained active in the music business initially playing with Slash's Snakepit and subsequently with a range of artists from Nancy Sinatra to MC5 and LA Guns. He is part of Kings of Chaos, a group of OG's including Steven Tyler (Aerosmith), Gene Simmons (Kiss), Joe Elliot (Def Leppard) and Matt Sorum (Velvet Revolver, ex-GN'R). Since 1994 Clarke has released five solo albums in quick succession beginning with 1994's 'Pawnshop Guitars' and ending with 'Swag' in 2001. Though his solo music has been well received he has released no new albums for now two decades. Probably he, or indeed his band have been too busy!  Behind Gilby stand bassist Muddy Stardust and Chad Stewart (LA Guns) on backing vocals as well as Kenny Aronoff (Chickenfoot, Sticky Fingers) on drums and Matt Starr (Mr. Big) provides more vocal input. The album was produced by Clarke at his Redrum Recording studios in LA, mixed by Chris Lord-Alge (who has worked with such as Foo Fighters and Green Day) and mastered by Maor Applebaum (Faith No More, Sepultura). If that's not enough rock royalty for you, I'm not sure what is.
'The Gospel Truth' begins with the title track, and single, released in June 2020. It's a good start with a groove that grabs the attention. Loud guitars and classic rock as ordered. I wondered what the album name was supposed to evoke and the answer is addressed here as Gilby reflects on his Catholic upbringing to create this song about truth and where it comes from. It urges the listener to consider the impact of what is said on others and to only say things that you mean. Influence should not come from manipulating others with empty threats or fear but from guiding and supporting them. What you say constructs truth for yourself and others, be responsible for what you say.
Soulful 'Wayfarer' follows, slowing things down for a second with the organ bringing blues to the mix before Gilby returns to his punk roots for 'Tightwad': a track about the ''…glorious but counterfeit''. Guests on this one are Nikki Sixx (Motley Crüe) and drummer Stephen Perkins (Jane's Addiction). It's a simple but gnarly rhythm with lyrics close to the bone as it calls out those who stand on others and compromise their integrity to get ahead.
A wonderful loose-stringed, undulating bass intro leads into 'Rock N' Roll Is Getting Louder'. About  love for the rock n' roll life, it's full of attitude as it refers to Gilby's love of motorcycles and his '91 classic Gibson Les Paul.
I'm not going to lie, the title 'Wise Old Timer' made me cringe a bit… The song itself is '80s rock slowed a pace with some blues licks. Take blues piano, full on rock riffs and an epic guitar solo and you have 'Violation' which is about abusing trust and facing the consequences. I must say, I meant to mention before now that Aronoff's drumming really drives this album through. He's a sick drummer.
'Dangerous Sin' has some of the attitude you might be looking for at last. At points, a sneer in the vocal and another level lead guitar solo reminds you of who you're listening to. The feel continues into 'Rusted and Busted' which has a memorable chorus and cracking rhythm guitar. 'She Won't Fight Fair' speaks to my soul. Punky and raw with a body-shaking rhythm, everything comes together here. High hat clashing over the breakdown you fall head-first into a face shredder. What a track to leave you on, just as I had almost written this off.
There's no doubt that Gilby Clarke and his bandmates have everything they need. Experience, notoriety, talent, fame – they're all here in spades, but this album confuses me. Sometimes it feels too held together, and as it plods on with a steady rhythm you scream inside ''just fucking let go''.
Thankfully that's saved, especially towards the end of the album by some absolute ahem, star tracks.
I've no doubt this album will go down well amongst fans. It's been too long. Clarke will continue to do what he does best: rock out. "Old timer" or not, he stands on his own. GN'R who?
'The Gospel Truth' is released this Friday (23 April). You can get your copy HERE.
www.facebook.com/gilbyclarkefanpage
All written content © Über Rock. Not to be reproduced in part or in whole without the express written permission of Über Rock.