By DJ Monk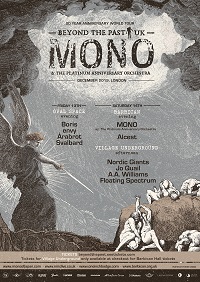 Japanese post-rock collective MONO are to celebrate their 20th anniversary with a trio of very special shows in London in December.
On Saturday 14 December, MONO will perform with The Platinum Anniversary Orchestra at The Barbican. Special guests will be Alcest.
Leading up to this performance MONO will curate two shows featuring friends old and new. Friday 13 December will see Boris and envy co-headline the Oval Space, with support from Årabrot and Svalbard. A matinee show at Village Underground on Saturday 14 December will feature Nordic Giants, alongside A.A. Williams, Jo Quail and Floating Spectrum.
Tickets for these three very special shows go on sale on Friday (28 June) HERE.
MONO will also be bringing their 'Nowhere Now Here' tour to Whelan's in Dublin on Monday 15 July and Voodoo in Belfast on Tuesday 16 July, followed by appearances at the Doune The Rabbit Hole festival in Cardross on Friday 19 July, the Tramlines Fringe festival in Sheffield on Saturday 20 July and the Supersonic festival in Birmingham on Sunday 21 July.