By Rich Hobson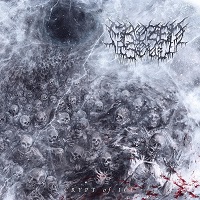 Well, here we are a week into 2021 and already the cracks are starting to show. Despite the glimmer of hopefulness that was the death of 2020, the New Year hasn't been any kinder with a fresh lockdown, soaring COVID-19 cases and a goddamn civilian coup all filling the headlines just in this first week, and that's without mentioning the tragic passing of Children of Bodom frontman Alexi Laiho. But, if there was one saving grace to the utter dumpster fire of a year that was 2020, it was the sheer quality of releases from genres across the board that promised exceptional quality regardless of style or subgenre. Gladly, Texan death metal brutes Frozen Soul are continuing this fine form with their debut, 'Crypt of Ice' – the first truly exciting heavy release of the new year.
But first, an admission; what Frozen Soul do isn't new by any stretch of the imagination. Solid, groove-laden death metal in the vein of Morbid Angel or Bolt Thrower, FS is more about being evocative of a classic style and feel than reinventing the wheel or challenging the zeitgeist. But, like fellow Texans Power Trip, the band bring such clear passion and proficiency for their craft to the table that the result has an immediate effect on the listener, standing out like some overlooked gem from the vaults that deserves the reverence its classic forebears so richly earned.
Stalking like a predator, the record eases in with the title track to show its menacing potential, simultaneously recognisable for how it adopts the standard DM structures (right down to pinch harmonics) whilst still feeling anthemic as all hell. Consider this first track a death metal counterpart to Executioner's Tax, a song deceptively simplistic but given over to powerful grooves to ensure they infect the listener and hook them in from the off, with vocalist Chad Grey snarling like a malicious spirit in the background of the mix in a way that just serves to enhance the atmosphere.
Pleasingly, Frozen Soul's interests aren't on comprising the most brutal nor most technical death metal around but in finding just the right place to settle in and make excellent, excellent bedlam. Living within the satisfying groove between doom and thrash, Frozen Soul swing from slow, lumbering sludge to all-out rampages when the mood strikes, but most interesting is how vocalist Chad Green maintains steady, implacable tone throughout, his deathly snarls erring just on the right side of atmospheric whilst remaining distinct enough to invite growl-alongs, treading just the right line of badass in songs like 'Wraith of Death' with the simple line "can you feel it, consume?" begging to be echoed back by heaving rooms of sweating metalheads.
The real test for most fair-weather listeners will be in how much they can stomach as the record wears on; 'Arctic Stranglehold' follows much the same structure as the preceding song, showing that Crypt of Ice is a record steadfast in its approach and not entirely interested in evolving. The thing is, that's actually absolutely fine and works extremely well if you already buy in to the overall package (and 30 seconds of 'Crypt of Ice' should be more than enough to tell whether you follow it stylistically), as doggedly blasting the grooves until the listener's neck snaps or they come away with neck muscles like a tree trunk is all part of the basic DM package.
Shades of hardcore shine through with the lurching riffing of songs like 'Merciless', while the song's propensity to suddenly break out into an all-out dash to the finish feels like a quintessential move from the Slayer book even if the wider tonal direction remains unwavering. Even within this, some tracks naturally stand out as powerful demonstrations of Frozen Soul's ear for demonic anthems. 'Wraith of Death' is a clear contender for its great vocal hooks, centred around a near-constant beatdown that refuses to quit even as it slows as though drowned in sludge. 'Encased in Ice' takes a different tact, straight-up chasing the listener down and beating them mercilessly, even grinding to a stop at the three-and-a-half-minute spot for what sounds like samples of a man being stabbed before coming back in with pure apocalyptic doom. These rare forays into faster territory are generally moments to get lost in pure abandon as the record steps up a gear, 'Beat To Deal' also doing this to great effect before letting loose one of the record's best chunky-riff fests in a way not a million miles from classic Cryptopsy. 'Twist The Knife' has probably the filthiest bass tones of the whole record, built into a record which is malice incarnate, right up to the final minute or so when the tracks comes back at half-speed for the easiest open-goal circle pit section this side of a Lamb of God gig.
Clocking in at just under 40 minutes, 'Crypt of Ice' is an endurance test depending on your constitution. For fans who fall in love from the first minute, the record should be a solid jaunt through death metal's most primordial stylistic inclinations, effortlessly classic whilst delivered with enough heart to sell the whole package. If, on the other hand you come in wanting the more frenetic or experimental approach of so many other DM records, the record's run-time is liable to grate as time wears on and new flourishes fail to materialise.
Even so, Crypt of Ice is an astoundingly self-assured debut release, setting the tone of the band up perfectly whilst not complicating things too much in the process. While live shows still seem like a distant memory, their return nowhere on the horizon, a record like this serves a reminder for the kinds of songs and vibes we would have eaten wholesale in a sweaty basement almost a year ago. Here's hoping the band get their chance to flex their muscles; songs like 'Encased in Ice' and the title track feel ready-made to win massive crowds over even as they steadfastly inhabit the underground.
'Crypt Of Ice' is released today (Friday 8 January). You can get your copy HERE.
All content © Über Rock. Not to be reproduced in part or in whole without the express written permission of Über Rock.