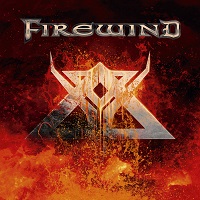 It's somewhat striking that Firewind aren't more famous than they are, given that main-man Gus G is one of the most renowned guitarists in metal. He's worked with Dream Evil, Mystic Prophecy, Nightrage and some fella from Birmingham with a penchant for bats, but the workaholic Greek lad keeps returning to the band he formed as a teenager. This self-titled effort is their ninth full length but while it has them firing on all cylinders, it also provides some clues as to why Firewind aren't quite reaching the heights some of their contemporaries have.
The main reason is that while Firewind have plenty of decent songs, there's no jaw-dropping standouts. There's no bad material and every single cut is chest-thumping fun, but they're lacking in distinctly killer tracks. Sabaton, Powerwolf and Hammerfall all have obvious highlights on their albums, but Firewind could choose to play all or none of these tracks on the next tour and it wouldn't make a blind bit of difference.
That said, this absolutely is not a bad album. Far from it. 'Welcome To The Empire' is an upbeat opener, 'Devour' is a fun slice of riffage and 'Overdrive' sees them fully embracing their Eighties arena fantasies for a call and response anthem. 'Rising Fire' and 'Break Away' meanwhile are cheesy singalongs which have ticked all the necessary boxes, but for some reason don't cross the line from solid to brilliant. They are well-executed and played with passion by four very talented musicians, but they're not unmissable. 'Firewind' is an album full of mid-show numbers and it'd be surprising if any of these were selected for the encores. They're fun while they last but it's a struggle to pick any standout favourites.
Which is a shame because Firewind would have what it takes to hit the big stages even if their guitarist wasn't an established icon. Recently recruited vocalist Herbie Langfors is a formidable singer and hopefully he'll stick around long enough to record more with them, while the other guys who aren't called Gus are pretty nifty with their chosen weapons too. However, the frequent line-up changes and irregular working practices means that despite their obvious skills, they haven't grown as a cohesive unit.
So, while 'Firewind' will scratch your power metal itch, it rarely rises to an exceptional level. Compared to the recent Mystic Prophecy album this just isn't exciting enough to make a lasting impression. It's a solid six out of ten, a long way from terrible but not essential. And while Gus is undeniably a tremendous guitarist, it'd be good if his main band had better songs to showcase.
'Firewind' is released on Friday 15 May. You can get your copy HERE.
www.facebook.com/firewindofficial
All content © Über Rock. Not to be reproduced in part or in whole without the express written permission of Über Rock.