By DJ Monk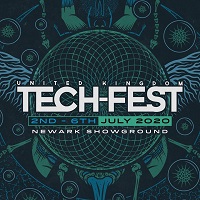 As the C-19 pandemic continues to grip the Überverse, and with seemingly no light at the end of the tunnel for the foreseeable future, more and more summer festivals are predictably falling by the wayside, with the latest to be cancelled being UK Tech-Fest, which was due to take place over the weekend of 6-10 July.
The event will now take place from 1-5 July 2021, with existing tickets valid for next year.
The confirmation comes less than 24 hours after organizers of ArcTanGent had announced that 2020's iteration was off, and two days after Bloodstock was finally forced to admit defeat in the face of continuing uncertainty and lack of direction from the government on any potential easing of restrictions around mass gatherings. They join a growing list of cancelled festivals, which include Breaking Bands, Download, Glastonbury, Wildfire, 2000Trees, TRANSMT and Boomtown Fair. A number of other festivals, including ÜR faves Ramblin' Man Fair, Steelhouse and Rebellion, say they are continuing to monitor the situation, but it is our prediction that they will also soon be forced to bite the bullet and reschedule for 2021.