By Jason Walker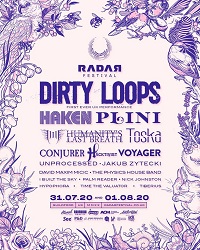 A new challenger to the progressive scene, RADAR Festival has just unveiled its second announcement – and it is an absolute corker to say the least.
Already leading the way with an outstanding line-up, they've added a bunch of new artists to the list in the form of HAKEN, Conjurer, Voyager, Unprocessed, Jakub Zytecki, Palm Reader, David Maxim Micic, Tiberius, I Built The Sky, Nick Johnston and Hypophora!
This festival already boasted an incredibly strong first announcement with the first ever UK performance from Dirty Loops, a return of the instrumental prog guitarist virtuoso Plini, as well as a host of other bands.
RADAR festival is shaping up to an incredible two days of music down in Guildford. It's first edition launched last year with a hell of a line-up too and this year is looking no different.
Early bird tickets have already sold out for this, but there are still weekend tickets available for the princely sum of £68.88 HERE.