By Jason Walker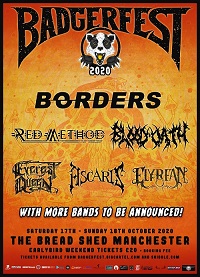 The Über Rock-backed Badgerfest has dropped another three names for it's upcoming Manchester showing later this year, with Borders, Ascaris and Elyrean joining the bill.
They join an already strong first announcement with Red Method, Blood Oath and Everest Queen so this is already shaping up to be a pretty bouncing year for Badgerfest.
Borders also stand out to me as they're a big favourite of mine and did a fantastic job of whipping up a frenzy at Techabilitation (an all-dayer organised by UK Tech-Fest) last year at the same venue, so this will no doubt be a good return for them.
With more bands still to come over the coming months – Manchester's got a big one on the way!
The fourth iteration of Badgerfest takes place at The Bread Shed on 17 and 18 October. You can get your tickets HERE.
In the meantime, to whet your appetite, I grabbed a chat with vocalist Jeremy Gomez and guitarist Quinton Lucion of Red Method, to find out more about the band, their music and what we can expect from them: