Written by DJ Monk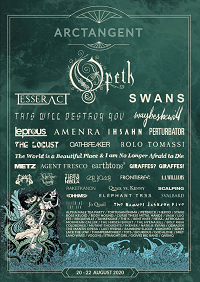 Those lovely folks at ArcTanGent festival have announced another raft of bands for this coming August, with the latest reveal headed by Swans and Metz, with a host of other exciting acts also heading to the weekender.
Also topping the latest announcement are Californian grindcore legends The Locust, who will be playing their first UK show in more than five years, Oathbreaker, Maybeshewill – both of whom will be making UK exclusive appearances – Leprous and Agent Fresco.
They join a line-up that already features Opeth, Tesseract, This Will Destroy You, Amenra, Ihsahn, Perturbator, Rolo Tomassi (who will be performing two full albums sets – 'Grievances' and 'Time Will Die And Love Will Bury It'), Earthtone9, Giraffes? Giraffes!, Fronterier and many more.
ATG Festival organiser James Scarlett told us:
"I'm so ridiculously excited about this announcement that it's difficult to know where to start! I'm particularly hyped for Oathbreaker, The Locust and Maybeshewill, all of whom I thought might be gone for good. And we've also got Converge's Jacob Banon back at Fernhill Farm with Wear Your Wounds plus the epic awesomeness of a 90-minute Swans main stage set will be incredible. I cannot wait! Word to the wise, we're not increasing our capacity this year so tickets will sell out!"
ArcTanGent takes place over the weekend of 20-22 August 20th/21st/22nd 2020 at Fernhill Farm, Compton Martin, near Bristol. Tickets are on sale now.