By Tim Bolitho-Jones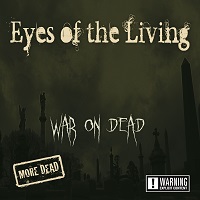 Philadelphia-based thrashers Eyes Of The Living might not be an overly familiar name, but the musicians involved have a lot of collective experience under their belts. Two of the guys involved – singer/guitarist Tim Swisher and bassist Chris Moore– were in a band called Abolish during the Nineties. They never scored the big time but did get a decent buzz in their local scene and opened for several significant acts, not least of which being Iron Maiden. After splitting in 1998, they stayed in touch and occasionally got together to play tunes and jam while getting jobs writing music for TV channels.
Fast forward 21 years and together with new drummer Cliff Fritts and bassist Mike Straiton, they've formed a new band to satisfy their urge to play zombie-themed thrash music. A cynical man might dismiss this as bunch of older musicians trying to recreate their youth but you've got to hand it to them; Eyes Of The Living have delivered an enjoyable record. Besides, Tim Swisher has spent years making music for shows like 'Here Comes Honey Boo-Boo,' no wonder he wants to play proper metal again.
'War On Dead – More Dead' is a concept album based on a comic they wrote themselves and it's one of those albums which is surprisingly easy to get into. The first four songs especially are almost flawless cuts of retro-thrash filtered through a modern lens. 'Count The Days,' 'Run For Your Life,' 'Infected' and 'Hell On Earth' all have catchy choruses, a satisfying crunch to the guitar riffs and spiralling, fret-burning solos. Despite the unpleasant lyrics, they're remarkably accessible and if they weren't singing about decaying flesh and bloody violence, could feasibly break into mainstream radio.
There's a brief instrumental next called 'Aftermath' which is soon followed by 'Chemical Bath,' the fastest, thrashiest cut on here. It'll please anyone that likes to give their neck muscles a major workout, as will 'Pull The Trigger' and 'Stench Of Death,' each a pulverising barrage of white-knuckle metal that keeps the momentum going. It's all fast, adrenaline pumping stuff and could give younger bands a lesson in enthusiasm.
Admittedly, the album does dip slightly in the final third. 'I Am Alone' in particular isn't up to the standards set earlier, although the high-octane title track goes some way to redressing the balance. This one starts off like an eerie, slow-burn horror movie soundtrack then turns into a full-on old-school banger, complete with gang vocals and diamond cutting thrash riffs. Perhaps the most striking effort though is the closing 'Dawn,' a sombre and atmospheric finisher which only appears on the extended edition. It's the sort of thing that plays in smoke-filled rooms where it feels like the walls are melting and has a similar vibe to when Pantera closed out 'Far Beyond Driven' with their 'Planet Caravan' cover.
It'll all be familiar stuff to long-time thrashers of course so anyone who lived through the post-millennial resurgence of the genre will have heard this before. The song-writing however is top notch and even if the eighty-five-minute run time does stretch the concept about as far as it will go, Eyes Of The Living deserve another shot at fame. And on another note, we also have to give them a shout out for making a detailed and informative website rather than simply relying on a Spartan Facebook page. It makes the whole research part of journalism way easier.
'War On Dead – More Dead' is out now. You can get your copy HERE.
www.facebook.com/eyesoftheliving/
All content © Über Rock. Not to be reproduced in part or in whole without the express written permission of Über Rock.