By Rich Hobson
If there's a better way of fighting off the winter chill than cramming into a small venue to watch some of the finest punk around, I've not found it. That's exactly the situation we find ourselves in at the tail-end of January, Birmingham's The Sunflower Lounge playing host to the North American invasionary force of Drug Church and Single Mothers for a sold out show in the bar's basement venue.  
It wouldn't be a proper punk show without some showing of force from the local talent however, so first up are Birmingham's own Super Lemon Days. Sat somewhere between the bouncing rhythms of 90s slacker rock (think Weezer, Cake etc.) and modern hardcore punk, SLD set the tone perfectly for what is to come. This punk isn't the slapdash, no-fucks-given approach of their 70s forebears; the band possess a sound which is ambitious and expansive, knitting subgenres and styles together with a combination of chunky, bouncing rhythms and riffs that are somehow even more bombastic. If that sounds a little too energetic for '90s slacker anthem throwbacks, that's because largely the music is; this has much more in common with the modern punk chops of PUP or tonight's other two bands than it does Beck or Weezer, but the vocalist's droning baritone brings it all back down to earth, leading to a sound which feels like Ian Curtis fronting The Bronx. Incongruous, yes – but it works, and once the initial 'wait, what?' reaction subsides it's hard not to love what the band pull out.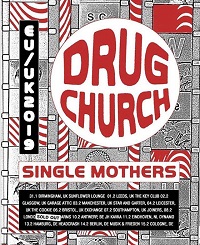 Single Mothers' inclusion on this bill marks it as something of a package deal, uniting two bright rising stars of the modern punk movement for one massive party. The band warm up by breaking out into a 100mph frenzy of wailing guitars and clattering drums, only to stop completely dead in their tracks as vocalist Andrew Thomson emerges from seemingly nowhere to take up the mic and introduce the band. The ensuing set is nothing short of spectacular, Thomspon wildly gesturing as the band seemingly bounce off every surface around them. In execution Single Mothers are the epitome of hardcore; a joyous release of irrepressible energy, turning rage and indignation into something triumphant and positive. And yet, there's so much more going on in what they do – no macho-flexing that blighted hardcore from the late 80s on, nor pig-headed adherence to overused tropes and rhythms. Single Mothers are above all of that, an eclectic explosion of styles and tones that brings to mind the expansive experimentalism of a band like The Bronx, where the sky is the limit and the only consistent element is if the band are playing, they are giving it 110 per cent.
As with so much in punk, it all seems to be over before it truly begins. A short intermission marks the changing of the guard, and then Drug Church are up to show just how fucking excellent they are. Drug Church were never slackers when it came to releasing great records, but 'Cheer' was something else – a record which could crystallise the experience of dissatisfaction with the adult world and present it in a universal way without sounding overly ridden with angst or clichés. It's not hard to see why the band are leaning heavily into 'Cheer' material from their setlist, and the sheer anthemic potential each song possesses elevates it to the point where it becomes readily apparent that the songs have outgrown the smallest rooms and are ready to start filling bigger and bigger stages.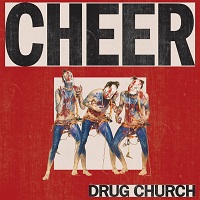 For their part, the crowd are insatiable as soon as the band hit the stage, and a mass of crashing bodies and roared lines signals Church's connection with their fans. Being generous, the room is more than a little cosy as it fills in for the headline act, creating a warmth and buzz that evokes the very best summer festival sets. During each song vocalist Patrick Kindlon is a force of nature, a full body performer who weaves, gestures and strikes poses to perfectly emphasise each and every beat the band hit. But it's between songs that the connection is truly made, whether through his relations of how it feels to get lost in Birmingham (something anyone who has ever tried to drive in the city centre can attest to), over-indulging at Not Dogs or just the physical limitations of playing a small venue ("I'd say about stage diving, but I'm pretty sure you'd get a concussion," he deadpans).
Throughout it all he is warm and amiable, chatting to the crowd as though it's a small gathering of a few mates for a night out. And in many ways, it is; punk rock has long prided itself on its sense of community and tonight's show feels like a family reunion, the camaraderie between bands and fans creating a completely inclusive atmosphere. It definitely doesn't hurt that Drug Church have the kinds of songs which speak directly to personal experiences, whether in the low-wage dissatisfaction of 'Weed Pin', dealing with shitty authority figures ('Unlicensed Hall Monitor') or the everyday monotony of the wage-slave lifestyle ('Dollar Story'), inviting passionate sing-alongs as the crowd belt out cathartic lines like "Fuck you; at $12.50 an hour, I should've started a chemical fire".
The sheer joyous exuberance of Drug Church's set marks them out as a band who could very well have the world in front of them. With impossibly catchy hooks and irrepressible beats and riffs, Drug Church are the watermark for what modern punk bands should aspire to, setting a guideline for brilliance which – in a just world – will propel them on to bigger and better things. The January 2019 tour of Drug Church and Single Mothers feels like one of those bills that, in years to come, will be looked at with disbelief – "can you imagine seeing both of those bands for £10, in a <200 cap room?!" If you're wise you won't have to imagine; get down and catch them on an intimate stage while you still can.
'Cheer' by Drug Church is out now via Pure Noise Records.
Single Mothers play 2000 Trees this summer.
All content © Über Not to be reproduced in part or in whole without the express written permission of Über Rock.