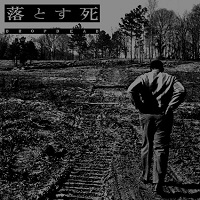 It's a big year for fans of Rhode Island based phenomenon Dropdead. Having just released their epic '23 Songs in 24 Minutes' third album last month, they have also been busy upgrading the sound quality and artwork of their first two LPs. The new versions will be self- released through the bands own record label, Armageddon Records in November. I'm excited to have a listen to the remastered version of their first LP, first released 27 whole years ago… 
In the beginning, in 1989, 'Hellocaust' emerged from the ashes of 80's hardcore punk scene, but this fledgling band wasn't quite sure who it was yet. At that time Bob Otis was the guitarist while Ben (Barnett) sang. As they jammed in the garage, they put together a few tracks and managed to get one out on a cassette compilation released by Chris Dodge of Spazz. It wasn't to be though and so Ben and Bob swapped roles. This is when it clicked and by 1991 Dropdead had risen.
The first album was released in 1993 through Selfless Records, a sub-label of Clearview but it was pressed and distributed by megacorporation Dutch East India who changed the artwork without the band's permission. In 2002 Dropdead produced a 'raw' version of the mix which they promoted as better than the original. In this re-issue the band stick to the original Don Fury mix, probably as it is the most authentic representation of who the emerging band were at that time. The sound quality and imagery has been custom enhanced to Dropdead's specifications by Brad Boatright at the Audiosiege studio in Portland.
Opener 'Hopeless' is an introduction to a band who get their message across without any fluff, usually in well under a minute. The pace of the music at this time was unusually fast, frenetic sounding and chaotic, with a level of aggression only approached by the likes of Siege. It isn't just about this wall of sound though. Dropdead have always had a clear political message. If you look under the surface at say… 'Bullshit Tradition', in six lines of lyrics a message is delivered that is as clear, direct and brutal as a horse's head under the duvet. Covering anti-capitalism, animal rights atrocities and the way people just let it all happen all in one verse, lyrics like 'A legacy of suffering from a business built on pain, a history of butchery and I hold you to blame' leave the sheep nowhere to hide. It's a brutal callout, and you're in for more from tracks like, well … 'Sheep' and 'A Nation Sleeps'.
Sometimes the pace is so full on that one track melds into the next.  'I Will Defy', 'Army of Hate' and 'Bosnia' blend into each other as short-lived, frenetic and putrid thrash which doesn't have any time to leave a full impression. Not that they don't leave their mark, they just aren't quite the full bootprint. Think I'm going to kick you in the fa.. Oh look, squirrel… Oh yeah, I was going to kick you in the fucking fa… aaarrrghhh. What? Nevermind.
Bang in the middle of the album are 'Unjustified Murder', where Bob takes the time to make his argument and elicit a response, before 'The Circle Complete' moves in to stir the pot agitating a circle (ish) of human bodies all hell bent on action.  Further in, after an impressive four second long dig named 'Fucking Assholes Part Two',  'Klan' stands out with a great rhythm, but at 19 seconds long it turns it's back, leaving you standing there with baited breath.  The last track, 'Still You Follow Blindly' is a knowing look, cast back in disgust. A parting kick to the sacks that says it knows you will not change.  Or will you? Clever.
Dropdead knows you better than you know yourself, and they're about to let you know it. Some choice cuts of putrid reality delivered relentlessly like a dog with a bone. Raw doesn't describe this impressive first album.  A hardcore punk classic.
The remastered version of the 1993 album is available in a limited colour vinyl LP with a gatefold single pocket jacket printed on a silver foil heavyweight jacket and printed inner sleeve.
'Dropdead' is released on 30 November. You can get your copy HERE.
All content © Über Rock. Not to be reproduced in part or in whole without the express written permission of Über Rock.