By Steve Mirsik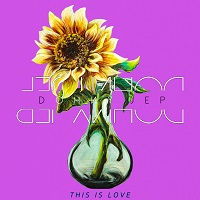 If you're looking for your new favorite alt-rock trio, look no further! Kent-based Dohny Jep (what a great name!) are here to deliver their unique blend of synth infused rock to the masses. I've always been a firm believer in quality over quantity and this four track EP titled 'This Is Love' is just that. Recorded at their home studio during the pandemic and expertly produced, mixed and mastered by Rhys May (Bring Me The Horizon, Don Broco, While She Sleeps), this is truly a stunning release.
Right from the start, 'Wake.Make.Break' hits you with an infectious groove and catchy lyrics that have you singing along in no time. 'Two Left Feet', however, raises the bar with its grungy riffs, thunderous percussion, and relatable lyrics about late nights and indulgence. There's no doubt this tune is an instant classic! Every band needs a great crowd pleasing breakdown, right? Well, 'I'm Bored' is another heavy hitter that definitely delivers. I turned the speakers way up to get the full concert vibes we've all been dearly missing. 'Living The Dream' closes out the EP with another strong composition and the poignant lyrics, "is the water rising?/Or am I still sinkin'?/I've made peace with my wishful thinking".
Overall, ​​the combination of expertly crafted songs paired with superb production make for a very strong EP. There's no doubt that this is the type of band you'll want to follow and catch at a live gig when they're in town. Fingers crossed for an appearance over here in the States! If you're a fan of bands like The 1975, Don Broco and Bring Me The Horizon, you'll definitely enjoy Dohny Jep.
'This is Love' EP is released on 27 August.
All content © Über Rock. Not to be reproduced in part or in whole without the express written permission of Über Rock.