By Monk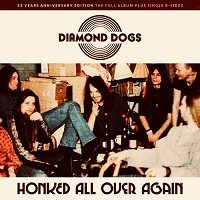 Look up the term "kick-ass rock 'n' roll" in the Oxford Dictionary Of Musical Terminology and you will see a number of references. One of them, of course, is this very website that you are reading at this exact moment in time, as we have been delivering exactly that for the past decade… and another will be legendary Swedish glunkers Diamond Dogs, who have been doing the same since the early part of the 1990s and are serving us a reminder of their collective genius with this, the latest in a series of re-issues from their first decade of kickin' those very same asses…
Originally released in 1994 as 'Honked!', this version comes with three additional bonus tracks on top of the ten which featured first time around – but, then, you wouldn't expect anything less for a re-issue would you? Not that you really need any extraneous and needless excuses to revisit this truly red-blooded rock 'n' roll gem, which still sounds as fresh and relevant – and much more so than many of the so-called "New Wave of Classic Rock" acts doing the rounds at the moment – as it did first time around.
In many ways, it could be argued that Diamond Dogs are Scandinavia's equivalent of our very own rock 'n' roll reprobates The Quireboys and Tyla's Dogs d'Amour: certainly, they inhabit the same scarf-waving back-alley barroom boogie territory, fuelled by catchy-as-fuck riffs, rollicking honky-tonk piano lines and the sort of vocals achieved only by washing down freshly sharpened razorblades with copious amounts of cheap whiskey.  Add in some massive organ sounds (and regular readers will know I have a penchant for massive organ sounds – ooh er matron!) and glorious gospel-style backing harmonies, and this is a delicious recipe that both sates your appetite and leaves you drooling in anticipation for the next course.
It's an album that smooches and swaggers, salivates and struts with equal amounts of lascivious aplomb, not to say one that definitely, and defiantly, has stood the test of time. I have to say that, to my eternal shame, these Dogs passed me by first time around, but my credit card has just taken another lockdown-battering as I make up for lost time investing in their back catalogue. You should do likewise…
'Honked All Over Again' is out now. You can get your copy HERE.
www.facebook.com/everylittlecrack
All content © Über Rock. Not to be reproduced in part or in whole without the express written permission of Über Rock.