By Monk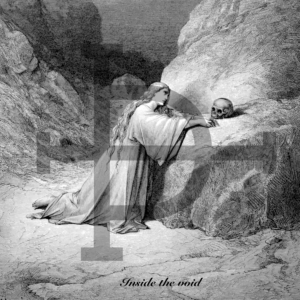 Just as their name suggests, Swedish goth rockers Dark take us into the sort of void (sic) which has been inhabited over the years by the likes of Sisters Of Mercy and, more especially, the mighty Fields Of The Nephilim – delivering huge dust-encrusted, industrialized rhythms overtopped with winding, sub-DM guitars and rounded out by suitably morose, noirish vocals that reach deep into your soul and tickle its darkest nether regions with the subtlety of an obsidian-clad feather duster.
To be brutally honest, there's not much more than that I can say about this four-track EP, the band's first release in five-and-a-half years, which could recommend it to fans of this style of industrial-tinged gothic noir. Bookended by two rather catchy tracks in the form of lead single 'Finally Home' and 'Memories', both of which contain strong reminiscences of FOTM at their most commercially powerful, my personal highlight is the heaviest, and unsurprisingly darkest, tune offered: the dense, Type O Negative broodiness that is 'Die Together', which combines a Depeche Mode-style electrodance vibe with a weirdly effervescent morbidity and sense of impending doom that wouldn't sound out of place on a playlist conjured up from the darkest recesses of Tarantino's imagination.
The overall result is a suitably noir, neatly constructed slice of gothic melancholia that sits comfortably within the confines of the sub genre. It may offer nothing new or extraordinary to same, but nevertheless provides a darkly pleasant listen, one suited to these dark (sic) times in which we still find ourselves.
'Inside The Void' is released tomorrow (Friday 30 April).
All content © Über Rock. Not to be reproduced in part or in whole without the express written permission of Über Rock.