By DJ Monk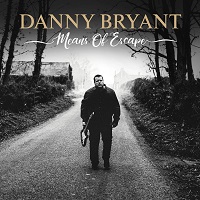 "Music is my release in the world. It's my way of surviving. It's my means of escape." So explains Danny Bryant when he talks about this, his incredible 11th studio album. And, it's not hard to see where he is coming from, because this is an album that allows you to escape the troubles of this world, while at the same time providing a therapeutic antidote to those self-same tribulations and woes. For, at its basest level, music is an extremely personal experience, for both those who create it and those who listen to it, and that is an experience which Bryant consistently is able to deliver in a career which has gone from strength to strength in terms of not only pushing him to the forefront of the British blues-rock scene but also establishing him as one of, if not THE, foremost figures in the genre.
I said in another recent interview that there are very few virtuosos who can make their instrument both sing and talk. Bryant is most definitely one of those. Every note he produces both sings and speaks to you, on every level. Whether it be to lift you to the heights of joyousness or to make you reflect on deeply personal issues such as loss and love, Bryant captures every ounce of human emotion, not only in the breadth of a song but also in the brevity of a single note. Just listen to solo on the title track and you'll hear exactly what I mean:
'Means Of Escape' is perhaps Bryant's most personal album to date. It was written and recorded in the wake of the death of his father – an experience encapsulated in the deeply emotional 'Skin And Bone', in which he talks to his dad as he lies on his deathbed. The echo vocal effect accentuates the effect of Bryant crying out without a response, echoing not only from the grooves of the album but through the annals of time, speaking to each and every one of us who has ever watched a loved one in pain. It's a feeling echoed two tracks later on the equally beautiful, in a different way, 'Where The River Ends', which literally tears at your heart-strings, with Bryant's guitar taking a back seat, at least until the solo section, as his pathos-laden vocal
The Über Kingdom is blessed with some truly great blues-rock musicians, from the first generation of maestros such as Mayall (still touring in this, his 86th year) and Clapton through Bernie Marsden to the likes of Pat McManus and Alan Nimmo: standing proudly at the top of the pile, however, is the inimitable Danny Bryant. And if you want any further proof, just stick this sublimely brilliant album in your CD player, crack open a bottle of good Merlot and turn up the volume… This is 21st Century blues incarnate.
'Means Of Escape' is released on Friday (20 September). You can get your copy HERE.
Danny Bryant plays Dingwalls on Friday (20 September) and then the following dates in October:
Thursday 3 – Derby, The Flowerpot
Friday 4 – Bridport, Electric Palace
Tuesday 8 October – Liverpool, Music Room
Wednesday 9 October – Kinross, Backstage
Thursday 10 October – Chesterfield, Real Time Live
Sunday 13 October – Cockermouth, Kirkgate Theatre
Wednesday 16 October – Stockton-on-Tees, Georgian Theatre
Thursday 17 October – Chester, Live Rooms
You can listen to our in-depth interview with Danny Bryant HERE.
www.facebook.com/dannybryantband
All content © Über Rock. Not to be reproduced in part or in whole without the express written permission of Über Rock.