By Jonny Bakes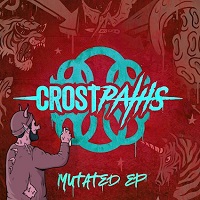 Do you ever find yourself longing for those heady days where baggy pants were universally accepted, and the worlds of rap and metal collided to form the beast known as nu-metal? Well by listening to this EP from Crostpaths, you could find yourself whisked away back to the early 2000s for 15 minutes of nostalgia…
'Mutated' is the second EP to be released by these alt-metallers from Kent and follows the success of their self-titled EP which earned itself a healthy amount of radio airplay. The intention was to launch this follow-up EP in the spring to accompany a stint on the road but, well, we can all guess how that worked out… nonetheless the EP is here and it promises to capture the top 3 emotions of 2020 – anger, sorrow and stubborn defiance.
Overall, this EP has strong nostalgic vibes, with a core sound that certainly takes me back. It makes me think of bands like Saliva and Papa Roach but with a bit of a modern twist. There's some elements of hardcore thrown into the mix, and liberal use of synth which gives it a bit of an edge over those bands that clearly influenced Crostpaths. This may only be a short EP but it packs quite a punch with its energetic and aggressive tracks that make up the album.
However, it is a bit of a shame that there are only three unique tracks here (the fourth being a radio edit of the first track) as it only really offers a little taste of what is on offer. There's only 10 minutes of unique music, which means that by the time you've started to get into it, it's already over. But, hey, on the plus side it means that it's perfect for all you guys out there with short attention spans. Now what was I saying?
Ah yes, so If you like nu-metal nostalgia in easily digestible bites, catchy riffs and a hint of something that will remind you which decade you're really in… then the 'Mutated' EP is something for you. It will appeal to fans of Linkin Park, Saliva, Papa Roach and maybe even some crossover for Skindred fans too. But be warned, it may feel like a bit of a tease so you may find yourself wanting to get the self-titled EP as well to make you feel like you've had a full meal's worth of nu-metal.
'Mutated' is released tomorrow (Friday 27 November). You can get your copy HERE.
All content © Über Rock. Not to be reproduced in part or in whole without the express written permission of Über Rock.