By Jonny Bakes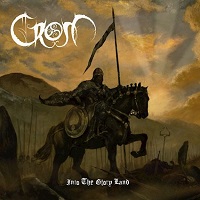 Crom, the gloomy god worshipped by the Cimmerian people, is an instantly recognisable name that conjures up images of… Arnie punching a camel. If that hasn't triggered your memory, I'm of course referring to 'Conan The Barbarian'. But the important question is: if a band were named in his honour, what would they sound like? Well, fortunately that's something we can answer as Crom has been right in front of us since 1997. Led by the eponymous Walter 'Crom' Grosse, who is responsible for, well, just about everything, they sit proudly among the German powers of power metal.
'Into the Glory Land' provides a clear contrast between epic power metal and emotive acoustic ballads that gives both thrills and chills in equal measure. Opening with the title track 'Into the Glory Land' in such an in-your-face manner with Maiden-esque guitars, it's pretty clear that this is a band who have carefully honed their craft. For me, it's a style that feels comfortable and can be compared to many bands from the genre, but the vocals in particular remind me somewhat of Tommy Johansson (Sabaton/Majestica). This is immediately followed with another raucous track, 'Riding Into The Sun', which rounds off the "thrills" of this EP.
The back end is reserved for three emotive ballads that are strangely haunting. They show that Crom has a similar range to the likes of fellow countrymen Blind Guardian who also mastered the combination of power and ballad (but not power ballads… they're a different beast). These tracks have a structure that feels deeply rooted in traditional folk music in that they're primarily vocally driven, in particular 'The Hanging Tree' which starts and ends with the same solo vocal passage. This slowly builds up in layers as more voices and a light helping of instruments until it reaches a peak where it then deconstructs back to that pure form of the vocals. It's pretty haunting but, with a really simple repeated vocal passage, it becomes something that sticks in your head for a very long time!
This was a late contender for my top EPs of 2021, but by no means any less worthy as a result. Initially I spent so much time listening to it that I kept forgetting that I needed to write my thoughts as well! Crom had somehow been absent from my radar in the past but 'Into the Glory Land' has placed them squarely in my sights so I'll be taking a nice deep dive into their back catalogue after this for sure. This has to be worth a punt for any power metal fans, particularly those who like to throw something a bit more mellow into the mix from time to time.
'Into the Glory Land' is out now. You can get your copy HERE.
All content © Über Rock. Not to be reproduced in part or in whole without the express written permission of Über Rock.