By DJ Astrocreep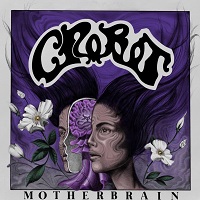 Four albums in eight years is a pretty steady output and a good way of building your base up, alongside a heavy touring schedule, as Crobot are showing with 'Motherbrain', their latest release. Having caught up with them at their recent Manchester gig, I'd been fortunate enough to see them perform live and so could compare some of the tunes in both the live setting as well as through the recording. Needless to say, Crobot have rocked the fuck out of my ears… and then some!
Stepping across to their new home of Mascot Records doesn't seem to have dulled their taste for writing some funky blues rock, with enough dirt in it to make Ron Jeremy himself sit up and take notice – a good time to check the interview if you haven't already, to get the reference! 'Low Life' and 'Keep Me Down' are the lead tracks from the album, with both showings giving a fairly blatant indication that the Crobot boys are still bang on form. Brandon's livewire stage presence can't be so easily replicated on a recording, so he seems to rely on mere talent to (more than) just get through, while Craig's guitar skills are highlighted even more throughout the album,  with the pair taking turns to shine in their respective spotlights with more than a shade of ability evident.
That's not to say that the rest of the musicians responsible for this top notch release are by any manner put into the shade, more a mix of undertone from both bass and drums not only keep the rest true with their timings but also compliment and lay the foundations for Brandon and Craig to flourish further still. Everyone plays their part in a more than adequate fashion, leaving me in no doubt that they will only continue to get stronger and stronger, as their brand of funk n roll seen done so well by the likes of Black Stone Cherry is created in such a manner.
All of this boils down to a rather simple fact – Crobot are taking a page from the Clutch way of doing things – putting out top notch records and touring that hard that they see their families less than if they were career criminals. This approach may not gain them a million fans overnight, but it's one that should stand them in good stead and provide a longevity that selling out for a quick buck would not provide, as they continue to build their solid back catalogue of top level dirty funk n roll. Long may it continue!
'Motherbrain' is released today (Friday 23 August). You can get your copy HERE.
All content © Über Rock. Not to be reproduced in part or in whole without the express written permission of Über Rock.