By David O'Neill
Tiny Rebel is a local microbrewery that is picking up a solid reputation for not only their craft beer but addition to the music scene in the now infamous locality of Womanby Street, Cardiff.  Whilst not the biggest venue in the music arena (none of the Womanby Street venues are big), the reputation for supporting the local music scene is growing with every gig.
I have been waiting for this gig for a few weeks, mainly because I wanted to see Calling Apollo since the new line up changed the vocalist.  I liked Vanessa Batten in her previous band (The Boom Sons) as she had a unique vocal style in that band so I wanted to see how it would fit into Calling Apollo, even though  I had not seen them around before even though they have played my local twice, albeit with a different vocalist.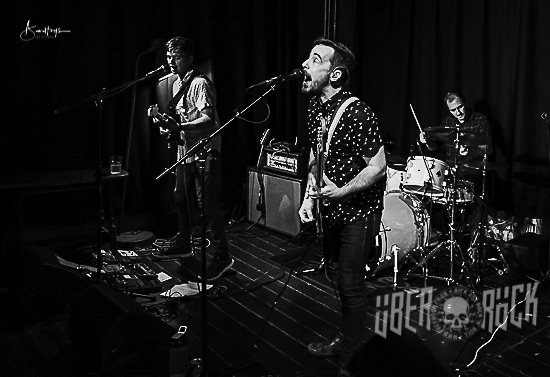 The evening was kicked off energetically by Cardiff band Tacet.  The three-piece of Jodie Daniels (guitar and vocals), Dave Morgan (bass and vocals) and Sam Wigmore delivered significant energy to the swelling crowd which was very well received. With a small selection of tracks on Spotify these guys are likely to pick up with the post hardcore scene quite easily.  The tracks are heavily bass driven and both Daniels and Morgan complement each other well vocally and instrumentally.  For a three piece they make rather a lot of noise and have that airy instrumental sound associated with bands of this genre.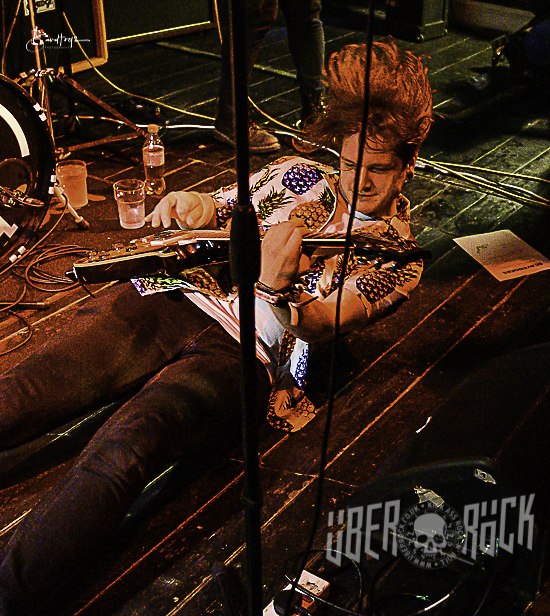 Second up were Scavengers, the four piece alt rock group from Cardiff who have been starting to gain momentum since their first gig in March.  They are a band who do not take themselves seriously coming on in loud and tacky Hawaiian shirts which certainly gets them noticed.  However, they are no comedy band all being very good musicians.  Although a different style of music to the first band the crowd soon got involved in singing along with some of the vocals when encouraged by Marek Ball.  A rapidly growing collection of songs is adding to the staples of 'Bodysnatcher' and 'Deadlock', both crowd favourites.  A rather unusual style of "speaking" the vocals rather than singing them makes them stand out. Cleverly written lyrics are supported by strong guitar riffs and solos as well as the solid rhythm section of Dan.  There is also a very cleverly put together lyric video to Deadlock which features old B movie clips to fit the lyrics.
Scavengers play Über Rock's tenth anniversary 'Return To The Valleys' show at The Doll's House in Abertillery on Friday 23 August.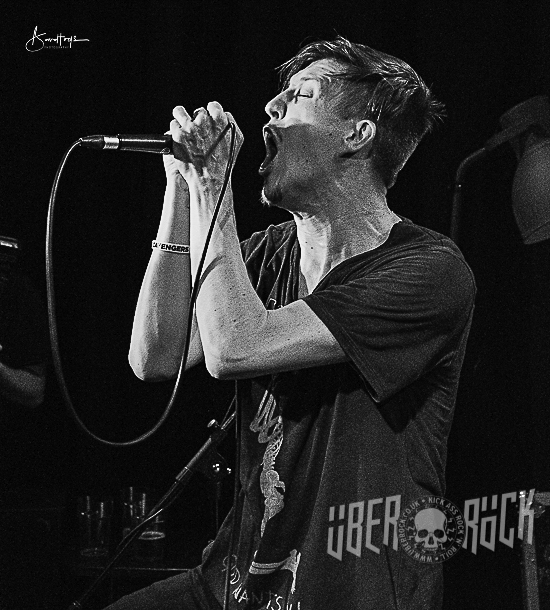 The next offering was the Merthyr four piece metal band Raiders featuring the ex-Blackout vocalist Sean Smith the hard hitting drums of Chris "Stixx" Davies drove the music along,  The fast paced hard hitting performance included large parts where Smith was deaddropping his vocals among the body of the audience.  Solid basslines and good guitar ranged from distorted lead to clean airy riffs.  To add to this an announcement that they are supporting Funeral For a Friend in both Cardiff and London had the audience cheering.  So I guess more on this will be forthcoming at te next UR review from Cardiff.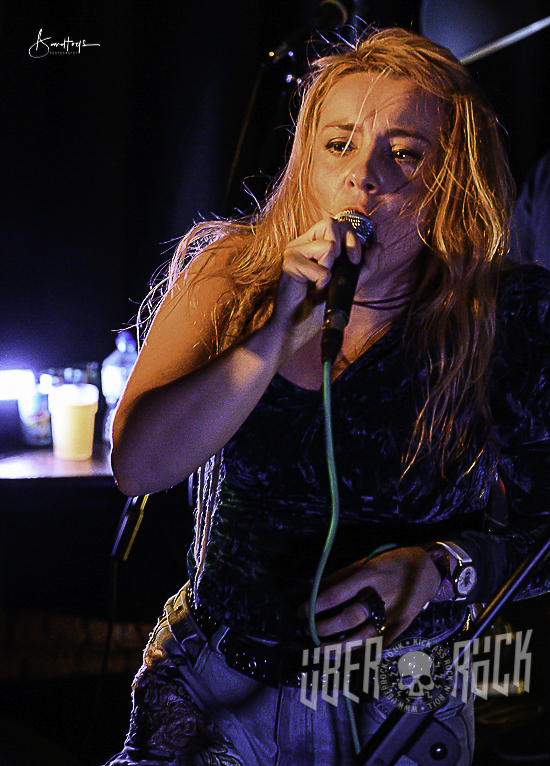 Finally, Calling Apollo, a five-piece also from Cardiff.  These have been kicking around the South Wales Music Scene and further afield since 2015 but the departure of the original singer in April this year led to the recuitment of Vanessa Batten.  Previously with The Boom Sons, her unique vocal style complements some of the early ethereal sound that this band have such as 'Light The Way'.  The twin guitars and drums provide alternate light and shade in the set.  The only problem was the sound which left her vocals a bit overpowered by the instruments.  Depsite this, it didn't detract from what is a very strong and varied set. Her vocals are very well supported by those of the rest of the band.  They have been promoting this new lineup, calling it "The New Era"; providing the music supports her vocals rather than drowning them out this could be the beginning of bigger things for this band.