By Jim Rowland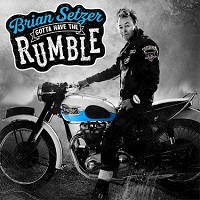 Following Stray Cats' successful reunion with the '40' album and world tour in 2019, multi-award-winning rockabilly guitar god Brian Setzer is back to the solo career with 'Gotta Have The Rumble', his first solo album in seven years.
Produced by Julian Raymond (Glen Campbell/Cheap Trick), 'Gotta Have The Rumble' contains 11 new tracks, all written or co-written by Setzer, and was recorded in Minneapolis (Setzer's adopted hometown) and Nashville. The tribal drums and surf guitar of 'Checkered Flag' kicks things off in fine style on an album that frankly doesn't have a weak song on it. Effectively the title track, 'Checkered Flag' features the chorus line of 'gotta have the rumble', which refers to not only the rumble of the engine on Setzer's motorbikes and hot rods, but also the rumble of his guitar when fed through a fully stacked amp.
Elsewhere, 'Stack My Money', 'Rockabilly Riot', 'One Bad Habit' and the Stray Cats-esque 'Off Your Rocker' are all pure rockabilly belters, 'The Wrong Side Of The Tracks' adds the orchestral swing of the Brian Setzer Orchestra, and 'The Cat With 9 Wives' takes the swing in a jazzy direction. Other diversions from the pure rockabilly blueprint are 'Drip Drop' with a swinging '60s pop crooning feel, 'Smash Up On Highway One' which adds a subtle Eastern flavour, and the heavier approach and Bo Diddley beat of 'Turn You On, Turn Me On'. Perhaps best of all is the excellent album closer 'Rockabilly Banjo' which has a good time upbeat guitar pickin' country vibe.
Initially available as CD and download, with vinyl to follow, 'Gotta Have The Rumble' is packed full of great, catchy, finely crafted songs, all built on rockabilly foundations but with plenty of different flavours thrown in, and it's also another reminder of what an outstanding guitar player, as well as singer, Brian Setzer is. After more than 40years in the business, this album is proof positive that Brian Setzer remains revved up and ready to rumble.
'Gotta Have The Rumble' is released next Friday (27 August). You can get your copy HERE.
www.facebook.com/briansetzerofficial
All content © Über Rock. Not to be reproduced in part or in whole without the express written permission of Über Rock.