By DJ Monk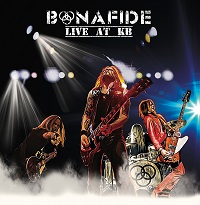 Regular ÜR readers know that, when it comes to live albums, I generally can take them or leave, and also have quite a sceptical attitude to same. I mean, how many of them are actually "live" in the truest form of the word? The annals of this dirty ol' artform we call rock 'n' roll are littered with tales of so-called "live" albums having been subjected to hundreds of hours of studio overdubs and other assorted trickery. Guns N' Roses anyone? Or how about Judas Priest? Or Sabaton, who actually admitted that all the music on their 2016 'Heroes On Tour' opus was re-recorded 'cos the sound engineer fucked up the original recording? So, forgive me if I approach such offerings with something of a lingering doubt in the back of my mind…
Which brings me to this, the first "live" album from one of Sweden's hardest working bands, and their assertion that it is exactly what it says in the title, with "no overdubs, no editing, no nothing"… yeah, it's not like I haven't read that one a hundred, or more, times before! And it can an even harder assertion to swallow when it takes more than a full year for the finished product to emerge into the sunlight: now, I'm not being nasty here (maybe just cynical), but how much time does that allow for large amounts of studio trickery to be brought into play?
When judging a live album, it does help to have some familiarity with the band in question, and fortunately I have seen the band several times, particularly at various Hard Rock Hell events where, alongside former labelmates The Quireboys, they were virtually the go-to house band for several years. So, I'm familiar with the energy which Bonafide bring to their live shows – and this, by and large, is captured on this opus, especially in relation to the breathlessness you can hear in Pontus Snibb's lead vocals. The fact that the instruments, and particularly the second guitar and bass, aren't mixed to "studio" quality does indeed suggest that there has been very little digital tomfoolery employed.
This is accentuated by the fact that the crowd reaction is also relatively muted: so many "live" albums have been misjudged by having a massive roar interjected at the end of each song, making it sound like it was recorded in front of a 10K+ arena crowd instead of a couple of hundred in a back-alley club. Fortunately, Bonafide do not make this mistake, and the result is all the more effective for it…
As would be expected from a release of this nature, although recorded at the end of the touring cycle for the previous year's 'Flames' album, the set contains most of the big pops from across the band's career, with 'Hard Livin' Man' featuring surprisingly early, prefacing one of my personal Bonafide faces, in 'Bottle Of Jack' (yes, please, Pontus… next time you're passing this way 😊)
Now, here we have to hold our hands up: when Bonafide became the "surprise package" at Hard Rock Hell V back in 2012 we at Über Rock were probably one of the only groups of people in the place smugly nodding to ourselves in a kind of "told you so" kind of manner. It was way back in the winter of 2009 that we first told our readers to "fill their heads with rock" as we discovered the band purely by chance.  Ever since we first realised something was dripping in the Bonafide camp and it wasn't bullshit, we've been keeping a keen eye on them. So, as the website that excites celebrates not only our own tenth anniversary but that of our relationship with one of the most energetic bands ever to emerge from the Scandinavian archipelago, it would be almost unforgiveable to proclaim 'Live At KB' for exactly what it is – and that is a damn fine reminder of what a damn fine rock 'n' roll band this is… Fuck any overdubs, fuck any jiggery-pokery, fuck any fancy-dancy techy tweaks: just fuckin' fill yer heads with fuckin' rock – again!
'Live At KB' is released today (Friday 15 March). You can get your copy HERE.
www.facebook.com/Bonafiderocks/
All content © Über Rock. Not to be reproduced in part or in whole without the express written permission of Über Rock.