By Jim Rowland and Neil Henderson
Tonight, brings together two of my favourite things in rock – Blue Öyster Cult and the Hammersmith Odeon. Sure it's called the Eventim Apollo at the moment, and has had a few different names in between, but to me and many others it will always be that magical name of the Hammersmith Odeon. In fact, it was at this very venue that I first saw Blue Öyster Cult, back in the '80s on their 'Revolution By Night' tour. They played there a few times after that, but it must be a very long time indeed since they've headlined this venue, so it's a welcome return tonight, and a clear sign that after all these years the BÖC's popularity is on the up yet again.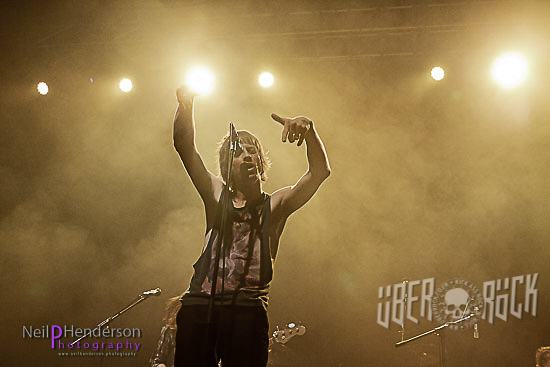 Blues rockers The Temperance Movement are the support for this tour, and despite being a relatively new act, they're a collection of experienced old hands who would not be phased by stepping up to a venue of this size, and indeed they're not. You could argue that after the initial buzz that surrounded this band when they first hit the scene, they should be headlining venues of this size by now if they are ever going to. They rose to prominence at a time when there were quite a few new bands of the blues rock ilk knocking at the door, but they were just about the best of the bunch then and remain so. Tonight, will certainly add a few new admirers to the band's following, although they don't really have that much in common with BÖC. A slick and concise nine song set is delivered with style and professionalism, pretty much combining a 50/50 split of material from the debut album and the latest album 'A Deeper Cut', with material from 2016's 'White Bear' notably absent.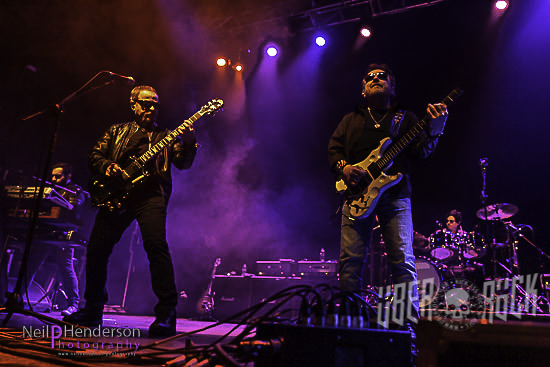 When I think back to the bombastic stage sets, back drops and walls of Marshall stacks I've seen at metal and rock gigs at this venue over the years, the stage is noticeably barren for Blue Öyster Cult. Just a plain black curtain at the back, the band and their equipment. But if you're Blue Öyster Cult, with a back catalogue like they have, you don't really need gimmicks. Mind you, as the 'Game Of Thrones' intro music gives way and they launch into opener 'Dr. Music', it's so quiet it sounds like they're playing through a dab radio, albeit with a crystal clear sound, and that wall of Marshalls may not have been such a bad idea. 'Dr. Music' is not BÖC's finest moment either, so it's a bit of an inauspicious start. It gets better, and louder, as they progress through 'Before The Kiss, A Redcap', just in time for a blistering 'Career Of Evil' and 'Burnin' For You'.
One of the great things about BÖC is that they mix the set up a bit each night, so it will never be exactly the same set twice on this eight-date UK tour. So, whilst you can be guaranteed to get BÖC heavyweight classics like 'Burnin For You', 'Godzilla', 'Then Came The Last Days Of May', 'Bucks Boogie' and '(Don't Fear) The Reaper', everything else is pretty much up for grabs and could change night on night. Tonight, the London crowd get the delights of 'OD'd On Life Itself', 'Harvest Moon' and an outstanding 'Flaming Telepaths' with 'E.T.I.' and 'The Vigil' worthy inclusions too.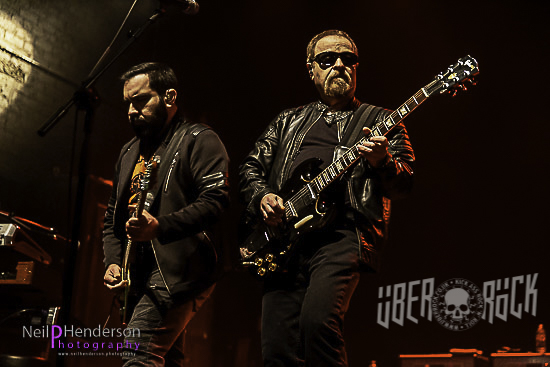 The real money shot for me comes with the first encore as Eric Bloom sits at the keyboard and knocks out that wonderful intro to 'Joan Crawford', one of BÖC's finest ever songs and one I haven't seen them do live for a very long time – a truly sublime moment that everyone is talking about at the end of the show. 'Hot Rails To Hell' and 'Cities On Flame With Rock and Roll' follow to end the show on rousing fashion as the standard encores. London gets a great set tonight, but fans in Norwich, Newcastle, Glasgow and all the other dates will get treated to other gems such as 'ME262' or 'The Red and Black', or 'Black Blade', or 'Shooting Shark'. Truth is Blue Öyster Cult could play for four hours and you still could complain about this one or that one missing from the set. Personally, I wouldn't swap any of it for that wonderful 'Joan Crawford' moment.
Blue Öyster Cult are one of the truly great and unique American rock bands. There was a period where they didn't come to the UK for many years, but we've been blessed in recent years with fairly regular visits. After seeing them grace the stages of venues like the Astoria and the Forum in London, to see them back at Hammersmith is a thrill, and a sign that after 47 years, the cult of BÖC endures and grows.
PHOTO CREDIT: All photos taken at Glasgow, O2 Academy, 24 February 2019. Photos © Neil Henderson/Über Rock. You can see our full gallery of photographs HERE.
All content © Über Rock. Not to be reproduced in part or in whole without the express written permission of Über Rock.