By Rich Hobson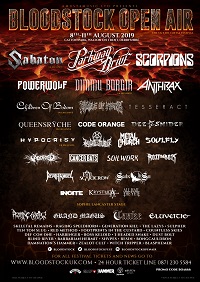 Bloodstock 2019 is just getting better and better, particularly with the announcement of a further seven bands added to the line-up.
Sulpher, Zealot Cult, Def Con One, Damnation Hammer, Blasphemer, Witchtripper and Harbinger all join this year's line-up, each band appearing on the Sophie Lancaster stage over the weekend.
The UK's premier outdoor dedicated metal festival, Bloodstock 2019 represents heavy metal in all of its diversity, headliners Sabaton, Parkway Drive and Scorpions all showing off very different sides of the spectrum. Also appearing across the weekend are acts like Rotting Christ, Cancer Bats, Cradle of Filth, Dimmu Borgir and Code Orange – an incredible mix of acts both old and new sure to inspire joy in metalheads of all shades.
Bloodstock 2019 will be held 8 – 11 August. Tickets are on sale now.
View the full line-up HERE.