By Hannah Reid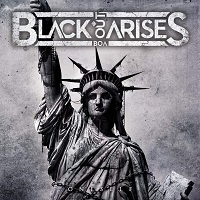 Originally formed in 2017, Black-Out Arises [BOA] are one of Paris' newest and most promising proponents of hard-hitting, underground rock and their debut album 'Oneself' is a whooping 18 track album. The album was recorded in and around France's strict Covid lockdowns last year. As guitarist Yoann Marrec said, "we work hard to combine a mix of powerful energy and catchy songs with choruses that stay in your head".
We kick off this momentous album with 'Rights and Acts' which really sets the tone for the album and solidifies the band with this funky underground rock sound. It makes you want to move and dance around without a care as you listen to it. We're off to a very good start with this song for sure. 'All is Gone' is a lot slower and I think brings the tone down a bit, I wasn't vibing as much as I had done with the first song, and I felt I got a bit bored of listening to it by about half way through.
'Presence' is the third track in the album and has some really fun guitars throughout that, for me, is what hooked me into the song even more as I was listening. I found myself nodding my head along to the beat and enjoying it a lot. 'Addict' at this point for listening I think has the catchiest chorus which is paired really nicely with the guitars and drums behind it. There is something about the song itself that sounds kind of romantic and like an ode to someone, or something, that you love and crave deeply.
'Ground' kicks off straight away and has very powerful vocals and again works really well with the instruments backing them up. They have definitely delivered with this song when they said they were aiming to have 'catchy songs with choruses' as this one's chorus was stuck in my head for a while after hearing it. It gets a little bit samey at some points, but that's not always a bad thing.
'Fire' had a bit of the same effect on me that 'Ground' did, and after about two minutes of the song, I found myself getting a little bored and distracted while it was playing. 'Desire to Shine' on the other hand, I really enjoyed. It was a very happy sounding song that I found fun and another one that I feel like you could dance and move around as it was being played live. It's really catchy and I think leads perfectly into 'Dream of Reality', which is another fun sounding song. These ones I am definitely vibing with a lot more than some of the ones before. It's faster paced too and the seat dancing for this song continued as I was listening along. These two songs are my favourites from the album for sure.
We're on the ninth track and halfway through the album at this point with 'Let's Go'. There were bits in this song that I enjoyed, but then there were bits where I felt the song went on for a bit too long. I was listening and thinking 'oh this is going to be it, we're coming to a fun end' but then it just kept going…and I found my mind drifting when I was trying to listen to it.
Onto the second half of the album, 'Stand Up' is next. We have definitely picked things up a bit for the middle songs with the pace and overall tone. 'Stand Up' has won me back over and brought me back into my seat dancey mode. It has elements in it that reminds me of Foo Fighters, which I really like, and this particular song really suits them.
'Now', 'Walk' and 'Call', honestly, were a little lost to me. I was listening to them and they all kind of blended together into one giant song, that at first I didn't realise they were all separate ones. I had to go back and listen to them again. 'Now' is one of the longest songs on the album and, honestly, it felt a bit too long. I didn't mind listening to it but, as with a few others mentioned before, I got a bit day-dreamy and found myself drifting when I was listening. 'Walk' and 'Call' both reminded me of a band that I couldn't quite put my finger on, but the familiarity of it made it fun and nice to listen to when I went back and focused a bit more.
'Play A Game' had another bit where I thought the song was going to end and I would have been perfectly happy with it, but then it surprised me and continued – and I was still perfectly happy with it. It's a fun and catchy song that I liked. 'I'm Waiting for You' was another which after hearing a couple of different songs from the album isn't too much of a stand out for me but is fun to listen to.
'World' has a much softer tone compared to the rest of the album, it does kind of come out of nowhere. This one was an unexpected surprise this far down in the album, I wasn't sure what other new sounds I would hear. Unexpected, yes, but very pleasant and for me another personal favourite. We continue on with this softer sound for 'Snow'. It picks up a little bit as we get into the song, but still has quite a melancholic tone which is gorgeous, the vocals suit very well to this atmosphere being created. These two songs honestly felt like a complete 180 from what I've heard previously, but they are both brilliantly unique.
Finally, we have 'Let's Go Tonight' which is a fun ending to the album. It brings everything together and I feel it has bits of every song in some way in it, which is a fantastic way to round it all up. My seat dancing returned for this one. It's very '90s rock/Foo Fighters sounding which, again, right up my street and I had a blast for the album finishing on this note.
The album itself is crammed with big and bold ideas, but there were also a couple of misses for me personally. I did have a lot of songs that I thoroughly enjoyed and have gone on to add to my playlist, but I feel as though some of the songs the album could have gone without, or they could have been shortened in some way in my opinion. But it was a very fun album, and I had a lot of fun dancing and moving around to as I listened.
Black-Out Arises were a joy to listen to and definitely a band to watch out for.
'Oneself' is out now. You can get your copy HERE.
www.facebook.com/BLACKOUTARISES/
All content © Über Rock. Not to be reproduced in part or in whole without the express written permission of Über Rock.