By DJ Monk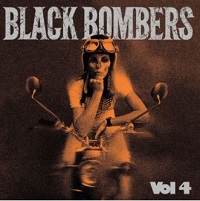 The pedigree of Black Bombers on the Birmingham indie/punk scene is undeniable. Darren Birch was the bassist in sleaze rockers Gunfire Dance and also is a member of The Godfathers, while drummer Dave Twist enjoyed spells in TV Eye, The Prefects and The Tenderhooks, and frontman Alan Byron pulls similar duty in Horsefeathers, all of which makes for a heady mix of talent and influences which all come together in one (in)glorious feast on this, the aptly named fourth release from a band who unashamedly mine the mid-80s vinyl vaults of the likes of The Cramps and The Gun Club.
Dragged as much out of the garage as the gutter, the one thing that is immediate about 'Vol 4' is its rawness: it's not hard to tell that it was largely recorded live (in the band's lock-up, as it happens, folks), as the sheer energy of the performances exudes and bleeds from every groove and note. Byron's vocals spit and snarl, yet at the same time possess a dark richness which hint at the possibility of Brian Setzer jamming over old Phil Spector tapes.
"There's no answers" he sneers during 'Relentless', but we don't need any, because they're all contained in these six magnificent, short, sharp shocks direct into the darkest recesses of your rock 'n' roll soul. Yes, folks, it's only r'n'f'n'r but this brief collection is one of the reasons why we're still head over heels in lurv with it!
The instrumental 'Gnarley' lives up to its title with one of the, well, gnarliest bass lines you'll hear this side of Hades, while the closing cover of Green On Red's 'Hair Of The Dog' (a nod to Byron's western noir background) is a stroke of absolute genius and a perfect way to close out any selection of this nature: souped-up to fuck, heavier than a ten-tonne truck filled with concrete and sounding like Blue Cheer on modern-day prescription meds, it's magnificent in its (in)gloriousness.
Which leaves me just one thing to say… and that's click on the link below and buy this mofo, you mofos yez.
'Vol 4' is out now. You can get your copy HERE.
Black Bombers support Jim Jones & The Righteous Mind' at the Hare & Hounds in Birmingham on Sunday (14 April). They also play the Hope & Anchor in Islington on Thursday 18 April.
www.facebook.com/BlackBombers150/
All content © Über Rock. Not to be reproduced in part or in whole without the express written permission of Über