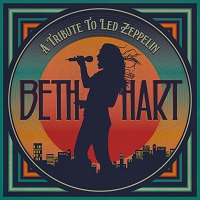 Can a female artist who is renowned for having a tremendous blues voice cover a whole album of Led Zeppelin tracks and do a good job?  Read on…
To start with, Ann and Nancy Wilson did probably the best female cover of 'Stairway To Heaven' back in 2012 at an awards ceremony when the band were obviously blown away by it. However, there was another tribute that night, to Buddy Guy, when Beth Hart sand 'I'd Rather Go Blind', and the power and rasp in her voice also obviously impressed the LZ guys, if you watch it on YouTube.
With a history of doing 'Whole Lotta Love' in her live sets intermittently since 2004, Beth Hart hooked up with producer Rob Cavallo on her 2019 album 'War In My Mind and the scene was set for another collaboration. By the way, 'War In My Mind' is a stunning album; if you haven't heard it, you really should.
Anyway, with musicians that read like a who's who of contemporary artists that are too long to list here and orchestral arrangements by David Campbell, who has done likewise for Muse and Aerosmith, who knows what can happen?  I'll tell you what: absolute bloody magic, that's what.
If you think the Wilson sisters' version of 'Stairway…' is good, be prepared to have your mind blown!  From 'Whole Lotta Love' onwards, the rasp and grit in Hart's voice is absolutely perfect.  Follow that with the best version of 'Kashmir' you'll hear since the original and you know you are in for a nine-track treat of sheer heavenly stairway climbing throughout.
The musicianship is outstanding – but it is Hart's voice that just blew my mind. I knew she was good – "queen of the blues" hah: more like "queen of rock"; she could sing the 'phone book and bring emotion and feeling that you never imagined to it!
Then, after the almost eight minutes of 'Stairway…', which is totally different to the Heart version, with the rasp and grit of Beth's voice a country mile better than it comes a really deep cut, 'The Crunge'.  This is a track that was originally panned so hard you'd think there was gold in them thar hills. However, the goggles of retrospection make you realize it was just a band experimenting with different styles. This version is actually quite good as a jazz funk track that is actually very well suited to Beth's voice. After the four minutes of jazz funk, a medley of 'Dancing Days' and 'When The Levee Breaks' is another seven minute "Zepic".
Not being a stranger to expressing her emotions and her struggles with mental health, there is as powerful a version of 'Black Dog' as you will ever hear. After that, where can you go? Oh, I know: a 'No Quarter/Babe I'm Gonna Leave You' medley, and the tone of her voice makes this an emotional rollercoaster. If I wasn't in love with her voice after the title track of 'War In My Mind I really am after this track. The emotionally charged ethereal guitar playing adds to the feel of 'No Quarter', then the acoustic intro to 'Babe…' just adds to it before the crescendo and breakdown.
Without taking a breath you rattle into three minutes of 'Good Times/Bad Times' before the final "Zepic" after all this to slow it right down to its finale of the 'Rain Song' is a stroke of genius.
To quote Monk (ÜR editor-in-chief), "You can see Percy crying when he hears this!". I certainly can.
If you don't buy any other album this year, you really need this in your collection, Ive already ordered mine on orange vinyl. From the instrumentation, the production, the engineering, choice of tracks – but, most of all Beth Hart's emotionally charged power vocals – this is genius. Absolute genius.
'A Tribute To Led Zeppelin' is released on 25 February. You can get your copy HERE.
www.facebook.com/officialbethhart
All content © Über Rock. Not to be reproduced in part or in whole without the express written permission of Über Rock.