By Jonny Bakes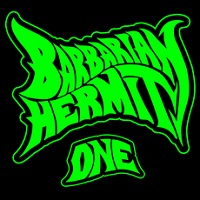 Five years ago, you could have been forgiven for thinking that a Barbarian Hermit was just someone's character in 'Dungeons & Dragons' or something. But in 2016 that all changed with the release of 'One' and album that absolutely launched Barbarian Hermit into the limelight, eventually securing them a place in the APF Records roster. Now, most people know that I'm a pretty big fan of APF Records as they have a knack for signing some of the finest talent in all things fuzzy and groovy and Barbarian Hermit are no different. They've gone from strength to strength since that debut release which has culminated in a stage-opening slot at 2019's Bloodstock as well as slots at both HRH Doom vs Stoner and Manchester's Badgerfest over the years. 
With not much else going on at the moment, it's a perfect time for a bit of a reflection and what better way to do that than with a nice shiny remastered version of 'One'? It's been painstakingly remastered by Chris Fielding (of Conan fame, who has worked with many bands in the genre) to provide something that is even bigger and better than the original. The fuzziness that I know and love is still there, but it's just that little bit crisper and the bass is now strong enough to blast a hole in your neighbours wall. It's a really impressive remastering that preserves all the charm of the original recording but cranks it up to 11 to bring the quality up to compare with their 2018 album 'Solitude and Savagery' which was also subject to the wizardry of Mr Fielding.
The gang's all here on this album, with the tracklisting largely untouched from the original release. You'll still be able to headbang your way through the metric tonnage of riffs in opening track 'Mermaid' and completely lose your shit to the solid chugging of 'Burn The Fire'. This rendition of 'One' has pretty much made me fall in love with the album for a second time, it freshens it up enough to make it feel new yet also very familiar. The heavy doom-laden riffs are there in their full glory, with as much chug as a fresher's party and pounding drums that'll reverberate through your walls much to the delight of the neighbours!
But there is a cheeky little surprise at the end of the album with the catchingly titled 'Through The Periscope of the Deadly Sub' which I can only assume was somewhat inspired with that little shipyard town up the coast from Manchester (although it probably wasn't). It rumbles its way along much like the sub in Das Boot and is in no rush to get its point across, clocking in at a pretty mammoth 9 and a half minutes. This is sludgy doom at its most epic and boasts a sensation that makes me think of what you could get if you took Mastodon's 'Blood and Thunder' and slowed it right down to about half speed.
So, yeah, this may be a remastered version of an album that's been out for a good long while, but it does a damn good job of it! For me, it's certainly a remaster that's worth getting your hands on even if you already own the original as the freshness of it really does add something special. And if somehow you've managed to miss out on Barbarian Hermit to date, and you like your music fuzzy and sludgy with plenty to chew on, then what the hell are you waiting for? Get 'One' now and then treat yourself to 'Solitude and Savagery' too because, let's face it, you're not going to be going out anywhere for a while so you might as well take the time to get hooked on Barbarian Hermit instead!
'One (Remastered)' is out now. You can get your copy HERE.
www.facebook.com/barbarianhermit
All content © Über Rock. Not to be reproduced in part or in whole without the express written permission of Über Rock.