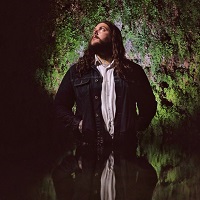 A local show sees me only need a bus ride into the city centre to catch Amigo The Devil on the Liverpool date of his current tour. Amigo The Devil represents something different from my usual gigs, in the form of "murder folk", something usually more attributed to Nick Cave or his ilk, albeit something I still have a strong passion for. I make my way into the venue as our opening act is just starting his set.
Our opening act is Mike West, a local ex-thrash band member playing acoustic guitar and performing vocals, along with a friend playing violin providing quite able musical support. He presents as a quite likeable, humble guy, playing some alt-country/blues rock material that comes across very well, with the added bonus of having supported Amigo The Devil on two previous occasions, so knows quite how to tailor his set towards the most suitable tracks. It's enjoyable, well played music with gruff vocals, with the backing violin providing that bit of edge that a solo acoustic singer/songwriter may not have for this kind of sound, and the small crowd rightfully appreciative of his effort between songs and at the end of his set.
Mixing words from his native Danish and English in different songs, our second support is Christian Hede, who performs well-crafted bluesy folk on acoustic guitar. Whilst the crowd grows a bit through his set, a silence reigns across the venue, showing quite how well his almost impossibly deep yet melodic voice is appreciated, both by myself as much as the crowd gathering around me. He comes across well between songs, with a couple of jokes drawing laughter from us all, while his songs tell of more lonely, isolated times, with his Danish lyrics, although not understood by most, if any, around me, being as appreciated as his excellent English. A very well-crafted set from a clearly talented musician.
Starting out with what is soon to be his humorous take on everything, Amigo The Devil immediately presents as a rather affable character, letting us know it's the first time he has managed to play a gig in Liverpool. As well as his wicked sense of humour, he's very honest and blunt about himself – his battles with depression in particular – there is a certain poignancy to it too, when the humour steps to one side, which Amigo The Devil blends together just as a spellbinding storyteller would a fable. The silence that had greeted the earlier performers, whilst singing and playing, continues on here, though the applause is both genuine and loud from the highly appreciative audience around me. It almost comes across live as Hayseed Dixie covering Nick Cave, reimagined by Bill Hicks, which is a hell of a mix yet one that is absolutely captivating.
'One Kind Of People' gives our first sing along in only the second song, with Daniel's trademark sense of humour shining through, bringing smiles as well as demonstrating his talent with the banjo for the first time, while 'Dahmer Does Hollywood' brings that darker gallows humour he obviously has in abundance more to the fore than before. The self-professed love song 'I Hope Your Husband Dies' continues this vein, even when interspersed with an audience sung cover of Smash Mouth's 'Allstar', almost complete, bar the (jokingly) requested little circle pit of sadness. We get a good mix of emotions as Amigo works his way through the set, while he warns us in advance there will be no encores, that underlying humour is still almost ever present. He keeps off covers, the 'All Star' excerpt apart, that he has performed live elsewhere, such as Slayer's 'Angel Of Death' or even his latest release, a cover of Tom Jones's 'Delilah', before finishing on 'Stronger Than Dead', a choice he admits is a touch of a selfish one, though it garners all the appreciation that his talent truly deserves. It's rare that an evening of three acoustic acts can feel so much like a journey, but tonight, that's exactly how it is. Simply spellbinding.
The tour continues: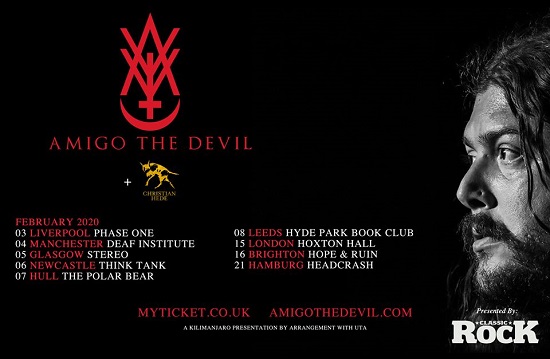 All content © Über Rock. Not to be reproduced in part or in whole without the express written permission of Über Rock.