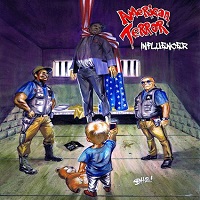 I have high expectations of American Terror, having listened to the single releases 'Judgement' and 'She's A Bitch' which have been building up thousands of views on their YouTube channel and winning featured recognition on Spotify. The pre-release four-track 'American Terror' E.P has also been around since last year, luring in fans. Through these the band deliver a taste of something very special, stoking listeners' anticipation for something more. Originating from Atlanta, American Terror showcases a melting pot of talent and sound. Imagine a plunked-up Guns 'N Roses with a metal edge and you're getting close. You're not quite there yet though. 
Debut album 'Influencer' is awash with, ahem… influences. Released by EMP, a label founded by David Ellefson of Megadeth, it was produced and mixed by vocalist Brad Cox of Greyson Manor at Black Paw Studios which are part owned by Mike Clink (producer for G'NR and Metallica to name a few). Troy Glessner (Disturbed) did the post-production tweaking at Spectre Studios, Seattle and the rest of the artistic line-up comprises guitarist Pat Valley (also Greyson Manor) with Rob Hammersmith (none other than Skid Row) doing the legwork on drums and Murphy Karges (Sugar Ray) on bass. Giving yet more dimension is DJ Soulman (of rap rockers Phunk Junkeez) who weaves samples throughout the tracks.
The stage is set then, with such depth of creative input, this should be amazing. No pressure. Let's see. Ah, with a deliberate and directed use of the "C" word, single 'Judgement' doesn't make for a gentle introduction.  I love this unreserved rant against hypocrisy, against those who can't deal with free speech but are not so squeaky-clean themselves. "You can get lit but I can't say fuck" is about as to the point as you can get. They have the snowflakes bang to rights here.  About time somebody did. It's an aggressive, kick to the teeth of an intro, no messing about.  'Denial' crashes through the door with an unbelievably unabated, thrashed out feel, speaking of mounting frustration at someone who will never quit, no matter what they say. It builds to a frenzy and breaks finally from a hard rock to metal showing Cox's vocal flexibility and range as he turns on his tormentor. 'How Do You Like Me Now' is a rhythmic guitar fest, a standout track.
The pace doesn't abate with 'Retribution', a song of course about revenge. I like a song about revenge! You can hear the fantasy fold out unmercifully here as this track illustrates how well American terror plays off each other, telling the story with racking guitars, growling vocals and perfectly timed drum breaks and stays. Then along comes 'People' which is a full-on punk classic with the added joy of the lyric "People, people piss me off". Oh, indeed they do and I've got to tell you I'm sold on this already, biased from here on in.
'She's A Bitch', the single release, sounds the most commercial of the album. Punk pop with vicious lyrics and a cowbell keeping the beat, it's still an enjoyable listen. 'The Threat' opens heavy, a rousing call up and a finger to the face of authority but it's not one of the strongest songs here. 'Prophet' is deceptively mellow and you meander aimlessly along before Cox begins screaming at the stupidity of the idiots who pay money to religious groups to absolve themselves of moral guilt. Gloriously offensive, it really made me laugh.
Nearing the end now and, with Soulman's input, 'Break Free' has a Beastie Boys feel. A song about gas lighting where the mentalists drive you mad every day. The message is don't lose your mind, break free. Not in the way you'd expect, either "Tick Tock Tick Tock Tick Tock Tick, BOOM". Rounding off the album perfectly is the deliciously raw and aptly named 'Me'. Who is me? That's a fantastic question. Once again, the target is the PC fuckwits.
So, what's the opinion on this?  I'm scared of sounding a bit fangirl here but you really need to listen to 'Influencer'. For me it's exactly what I've been looking for. It not only holds the attention through every song from start to finish but it has that something extra. Lyrics easy to identify with and that say what many want to say, no apologies, swaggering rock attitude and frenzied vocal presentation. People will tailor the message to themselves but you can't escape the musical artistry: the way rhythmic chugs of the guitars, oscillating vocals, incessant and intricate drum work, beautiful bass rhythms and even the quirk of the samples just work together so well. I was rocking away first listen which usually doesn't happen these days.
Everyone's so obsessed with political correctness, afraid to say how they feel. Maybe what they feel is "you're a cunt". So what? At least you know what you're dealing with. What I feel is greatly excited about this band. This album is hard, it's fast, and if it's not massive then it should be. Straight up, no euphemisms intended. Still here? Go buy it.
'Influencer' is released this Friday (22 May).
www.facebook.com/americanterrorband
All content © Über Rock.  Not to be reproduced in part or in whole without the express written permission of Über Rock.