By DJ Monk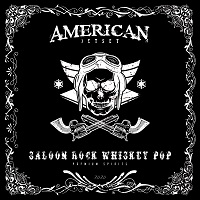 Despite hailing from the east coast of the USofA, American Jetset wear their influences very much on their (no doubted heavily tattooed) sleeves, as they declare their desire to inhabit the travel through time and space to the alleys and sewers of the Sunset Strip of the late Eighties with lascivious intent on this, their just-released second mini-album.
Drawing deep from that well that generated many more should-have-been lost souls than it did arena-headlining showstoppers, 'Saloon Rock…' struts and swaggers down that boulevard with confident aplomb, leering at the bikini-clad blondes and brunettes alike (and that's just the blokes!), a cheeky wink and an inappropriate innuendo never far from its lips as it blows pouting kisses before sticking its tongue right into your aural cortex and bothering it with classless impropriety.
American Jetset walk the heavier end of the "hair metal" path ploughed by the likes of Junkyard and Kix, while still evoking the sleazy slinkiness of Pretty Boy Floyd, combined with the AOR sensibilities of Slaughter and their ilk, all coupled with the appropriate reverential nods over their shoulders to Messrs Roth, Tyler et al.
While the six songs, from the opening street fight-ready finger-clicking glunk pump of 'Walking Contradiction' through the Poison-ous 'One More Time Around' to the acoustic chantalong anthemic of 'Never Be Goodbye', are taut and precise, the collective and individual performances are equally so. Each song is driven by the massive bass sound of Kevin Harrington, and then propelled further forward by the lewd licks of lead guitarist Lance Reeder, before the band unveil their ace in the hole… And that is frontman Ian Kaine MacGregor: unlike a lot of latter-day bands who have sought to tread the sleaze rock revivalist route, American Jetset have a singer who perfectly matches their sound in every way; from the spit-strewn punkiness of the aforementioned 'Walking Contradiction' through the high-fives of 'Gold Nines' to the remorseful southern blues twang of 'Getaway Car', MacGregor pulls every ounce of vim from his impassioned lyrics in a way which many of his contemporaries would do well to study.
We may all be starting to suffer from the isolation blues, but 'Saloon Rock Whiskey Pop' undoubtedly brings more than enough sunshine into your day to make you want to take up the band's invitation to "grab another bottle" and "pop the top" – oh, and crank this baby up to maximum while you're at it.
'Saloon Rock Whiskey Pop' is out now. You can get your copy HERE.
www.facebook.com/americanjetset
All content © Über Rock. Not to be reproduced in part or in whole without the express written permission of Über Rock.