By Monk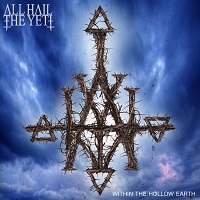 Despite hailing from the City of Angels, there is nothing in the slightest angelic about All Hail The Yeti. Indeed, they deliver a style of NOLA-encrusted sludge so dense and intense that the four guys must have been bathing in the muck and mire dredged the furthermost depths of the Mississippi for most of their individual and collective lives, while at the same time sounding like it has been dragged from the very bowels of Hades itself.
Once again drawing on the fascination with mythic lore as displayed on their previous three albums,  this time concentrating on aspects of Inuit ('Headless Valley' and 'Cry Of The Wahella') and Norse ('Nidavelir') antiquity, this time around there is a much more personal theme to the album, drawing as it does on themes of personal loss, grief and the subsequent consequences and outworkings, such as on redemption-seeking lead single 'Bury Your Memories' or the impassioned, pathos-laden 'Funeral Heart' and 'Cold Dead Leaves'.
AHTY also draw on many other influences outside of the pure doom/sludge mien which is their forte, with element of psychedelia, groove metal and classic stoner vibes integrating seamlessly into the overall vibe. A prime example of the latter collision is the superbly catchy 'Nidavelir', which could easily integrate itself into a Kyuss/QOTSA back catalogue without receiving a sideways glance. But part of the trick of 'Within…', as with their previous output, is that AHTY know exactly when to twist the knife when you least expect it: 'Cold Dead Leaves', for example, transitions between hypnotic  Pantera-style aggressive groove and CoC/EHG punkiness with the ease of Lewis Hamilton throttling into the home straight at Silverstone.
'Within The Hollow Earth' is the perfect example of a classic heavy metal album. Defying genrification, it ticks every box in terms of attitude combined with harmony, heaviness melded with melody, intensity counterpointed with laconicism, anthemic choruses balancing with no-fucks-given riffage, all pulled together with aplomb and mastery of their art. I sincerely hope these guys include a Belfast date on their promised summer 2022 tour schedule, as I'll be front and centre shaking my head from side to side…
'Within The Hollow Earth' is released today (Friday 12 November). You can get your copy HERE.
www.facebook.com/officialallhailtheyeti
All written content © Über Rock. Not to be reproduced in part or in whole without the express written permission of Über Rock.