By Monk
Northern Ireland NWoTHM power trio Rabid Bitch of the North are to infect the world with 'Heavy Metal Rabies' when they release their second album in May.
The album will be released on the newly resurrected Distortion Project Records – the label arm of Belfast-based heavy metal promoter, manager and tour booker/manager The Distortion Project.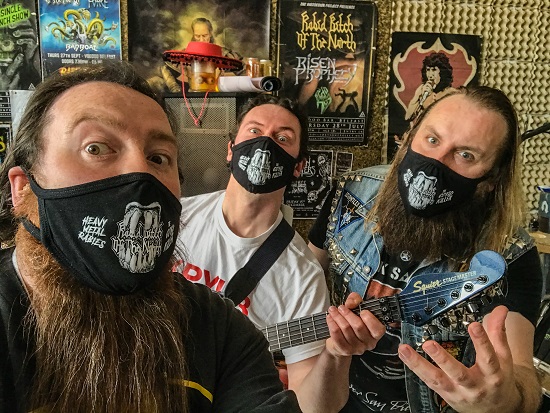 Guitarist Gerry Mulholland (pictured above flanked by band mates Chris Condie and Joe McDonnell) told us about the background to the album:
"Our second album is quite literally the next step for us. If things were different, we might have had another album out as well, but juggling a band and outside band life is tough as you have money and time constraints. So, what we will be putting out will be new material built on foundations laid down by everything we have written and recorded previously.
"We aren't going off in any new directions, we are just solidifying what we are and that is a heavy metal band steeped in the traditional genres of the golden era of metal. A natural evolution in our ability and musicianship will beon display and we'll be incorporating some things we haven't done before alongside the tried and tested formula of our previous releases, but with a little more refinement.
"Strides will be taken towards purifying our sound and making it into the kind of metal we all believe in. The production will be another notch up from the first album and the lessons learned from that will bolster our sonic signature for the listeners.
"One thing I have purposely aimed for is more dynamic material to show a little more complexity but without losing touch with the material from our previous album. I believe this makes for a perfect vehicle to showcase some things people may not have heard from us before. Two new songs have already been played live at the Full Metal Osthessen festival in Germany and they went down a storm. We're hoping that what follows with the rest of the album will also satisfy the hardcore headbangers out there!
"In the New Year we [hopefully] will be taking the tracks on the road with the aim of spreading the heavy metal rabies as far as we can.
"So, after this pandemic is over and everyone survives, we can unleash our own virus in a much more enjoyable way, infecting new fans from place to place and wherever we can get on stage."
RBOTN have also announced the first few dates of the proposed 'Rabies Over The UK 2021'tour in support of the album:
Thursday 27 May – Crumlin, The Patriot
Friday 28 May – Swansea, Hanger 18
Saturday 29 May – Bristol, Gryphon
Sunday 30 May – TBC
These four shows will be their first on the mainland in three years, with more to be confirmed, including a return to Europe and beyond!
The band have also just released a brand-new piece of merchandise in the form of a limited edition Covid-killing mask. "Rabies trumps coronavirus every time when you're wearing one of these!" the Rabid ones declare. They're on sale now at £5.50 (+ p&p) HERE.