By DJ Monk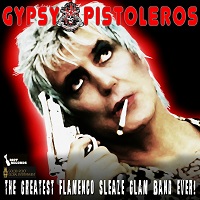 Self-styled "flamenco glam sleaze rock n roll pioneers" Gypsy Pistoleros have returned to the studio after an eight-year hiatus.
The band, who are fronted by the charismatic Gypsy Lee Pistolero, are currently recording their new album, 'The Mescalito Vampires', which is due to be released later this year via their new label, RIOT Records. It will be preceded over the summer by an 18-track anthology, the modestly titled 'The Greatest Flamenco Sleaze Band Ever!'.
Since the project's last album, 2012's 'The Good, The Mad And The Beautiful', GLP – aka Lee Mark Jones – has turned his hand to acting, starring in a number of independent movies as well as his one man show, the semi-autobiographical 'A Rock 'n' Roll Suicide', which enjoyed a successful run at last year's Edinburgh Fringe Festival.