By Phil Cooper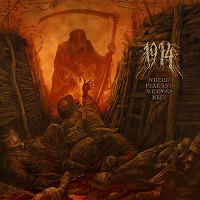 Welcome back to the front lines. 1914 lead us on another offensive through the darkness and brutality of the First World War.  Over the course of eleven tracks, we're offered a powerful mix of blackened death/doom metal.  'Where Fear and Weapons Meet' offers up not only titanic riffs and punishing rhythms, but also historical stories of ordinary humanity during extraordinarily dark times.
Following the same introductory path as previous album 'The Blind Leading The Blind', 'Where Fear and Weapons Meet' opens with the unassuming 'War In'. A sound bite based upon a popular Serbian piece of the period. This sets the scene and builds into a no punches pulled, frantic death metal track.  Thematically the link between the sample used for 'War In' is seamless as the subject matter takes to Serbia and the assassination of Arch Duke Franz Ferdinand and the catalytic spark for the war that was to follow.  1914 hit the ground running, crushing drums and thunderous guitars back up the guttural vocals as the story unfolds.  It's heavy yet highly engaging.
What follows is a masterclass in marrying up history with extreme metal.  War has always been a topic closely covered across the metal genre and extreme metal in particular picks up on the themes of conflict on a regular basis.  This is not new ground, however, it's when bands directly tie in historical events and build that into their music that they can stand out.  1914 have already set themselves up as one of the best in the business for this with their previous releases, yet this new album takes it a step further.
Tracks such as 'Vimy Ridge (In Memory of Filip Konowal)' and 'Don't Tread On Me (Harlem Hellfighters)' delivery the thunderously heavy riffs, crushing rhythms and guttural vocals aplenty.  They highlight the intensity that 1914 have come to be known for.  They've executed the blend of blackened death/doom metal to a high standard while also incorporating engaging melodies and lyrical content.  However, it's not just the crashing wall of sound that 1914 can create that marks this album as a high point for them. 'Coward' and single release '…And Now A Cross Marks His Grave' offer up lyrically heavy content.  For 'Coward' featuring additional duties from Sasha Boole. The choice to strip the instrumentation back to an acoustic delivery allows the vocals to take centre stage as they take on a sombre yet captivating note telling a poignant story.  The latter track, featuring Paradise Lost's Nick Holmes on vocals, brings the human element front and centre with the lyrics based upon an actual letter written by a commanding officer to a recently bereaved mother.  The fact that they can tackle this type of subject matter and in a way that is both respectful yet matches the impact of their music showcases how sophisticated they've become as songwriters.
'Where Fear and Weapons Meet' is another expert offering from 1914.  It's an excellent follow up to their previous work and shows that even though they have stuck with their formular of extreme metal retellings of World War One stories, they are not a one trick band.  They've got a wealth of depth and creativity when it comes to song writing and they have the musicianship to deliver highly engaging metal with equally captivating lyrics.
'Where Fear and Weapons Meet' is out now. You can get your copy HERE.
1914 tour next year, with ÜK dates as follows:
28 April – Plymouth, Underground
29 April – Cardiff, Fuel
30 April – Bridgwater, Southwest Heavyfest
1 May – Birmingham, The Castle & Falcon
2 May – London, Black Heart
3 May – Stoke, Underground
4 May – Manchester, Satans Hollow
5 May – Glasgow, Audio
6 May – Nottingham, Ye Old Salutation
7 May – Leeds, Boom
All content © Über Rock. Not to be reproduced in part or in whole without the express written permission of Über Rock.