By DJ Monk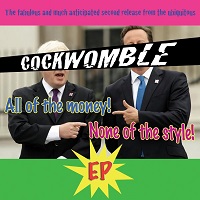 Brighton seems to be something of a hotbed of both metal and punk talent at the moment, having already given us the likes of Architects and The Bar Stool Preachers within both genres. Now you can add the rather magnificently named Cockwomble to the growing list of must-check-out acts emanating from this particular seaside resort.
The trio are very much new kids on the block, in every sense, having only come together a little more than a year ago. Their debut EP, 'Henchmen' (which somehow passed us by – naughty 'Wombles), garnered a helluva lot of interest when released at the beginning of the summer, and their career path is set to continue on an exponential curve with this speedy and highly impressive follow up.
Describing themselves as sounding "like all your favourite bands from when you were young that eventually broke up because they weren't successful enough and all hated each other", there certainly are plenty of influences and sounds thrown into the melting pot of this four song EP.
The opening title track, which rails against "the entitled imbeciles running the UK, enduringly demonstrating once again that, despite being upper class, they don't really have any" reminds of Bow Wow Wow with its use of gang vocals and a catchier than the sales bug chorus. 'Want Stuff Buy Stuff' (which should be self-explanatory) is a rapid-fire blast of pure power punk energy, with a beat so fast you'll swear your foot is going to fall off and has an anarchic Suicidal Tendencies vibe to it.
'Henry XXXXXV' touches upon elements of the Pistols (almost inevitably given its subject matter) mixed by the Beastie Boys and fired through a Noughties pop punk regenerator, before 'Punk In A Dress' is a pure slice of Pistols-meets-Ramones anarchy, from the slicing riff through the infectious, gang vocal-inflected chorus line.
Cockwomble may be very much newcomers to the Über Kingdom of Rock 'n' Roll, but with this second release in less than a year they have already established a claim to the title of best young band on the British punk scene. Now, let's raise those middle fingers and pogo 'til we fall over.
• 'All Of The Money! None Of The Style!' is out now. You can get your copy HERE.
www.facebook.com/cockwombleband/
• All content © Über Rock. Not to be reproduced in part or in whole without the express written permission of Über Rock.