The BIG Über Rock Interview – Lajon Witherspoon (Sevendust) 
Written by Rich Hobson
Saturday, 22 December 2018 04:00
It's been seven years since Sevendust last made it over to the UK, but the band proved that the old saying 'absence only makes the heart go fonder' really does ring true when they returned for a co-headline tour with All That Remains earlier this month. I caught up with vocalist Lajon Witherspoon before the band's recent Nottingham show to see how things were going in the Sevendust camp, how they've found the reception to 'All I See Is War' and what comes next for them as they approach their 25th year as a band…
Let's get the big, obvious one out the way first; what took them so long to come back out here to the Über Kingdom of Rock 'n' Roll?!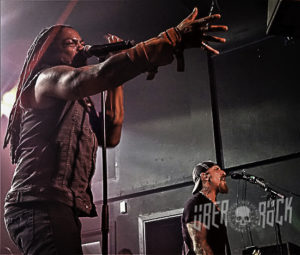 "It's good to be back! Until recently we didn't have the right people working for – or with – us at the time. We wanted to come back so many times since we were last here, but something always stopped us. Now we've finally got the right management team behind us and here we are again; you guys won't be getting rid of us so easily this time!"
How do things differ in the States to out here?
"It's different worlds. Everybody is even more passionate out here because we haven't been over in so long. There's excitement, but there's a very different excitement to back home because it's like 'these guys really do exist; they're not extinct!"
How does it differ as well in terms of how people perceive you – particularly when it comes to having such a huge thing as radio rock out in America, where over in the UK there's so little radio airplay for rock bands?
"Radio is such a huge thing in the States, but some people think of it as being something no band should want. But it's like – you think you're selling out, but you're selling out arenas. And that's a good thing for the families – both yours and the family of fans. I like being on radio, but we're happy to be on whatever medium allows us to get out there and be heard."
You guys dropped 'All I See Is War' back in May – how did you find the reception to that?
"It was good man; we were really excited to be working with Elvis Baskette, who is a really good friend of ours. You could just feel the energy when making the album, which I think crossed over into the songs themselves. We also made a few videos and signed up with Rise Records, which I think is a great thing in and of itself because they can help us out a lot."
They reckon you'd written 50 or 60 songs for the sessions, did that make it more difficult than usual to editorialise and pick which ones would make the final cut?
"It's always hard, especially because there are so many writers in the band. But at the same time it's great; now we've got more material to pick from, going forward for our next album. It might end up being that we take a verse from one song, or we love a chorus from another, but that's how we work and that's how we can create songs completely made up of parts we love."
We live in an economy now where unused songs and B-sides are much more available thanks to streaming platforms and digital downloads – do you think you'll use any of the offshoots?
"I use that avenue more for my solo stuff. Most people on social media receive life in download format and you've got to keep your finger on the pulse – downloading and streaming is definitely where the pulse is at right now."
Some of the press materials for the record basically describe it as a rebirth for the band – why do you think that was so important this time out?
"That's the level we wanted to go in at. We walked in and it was like 'I don't want to change anything, I want this to be us', so we asked Elvis to 'police' the ideas and help us get back to being ourselves. If it ain't broke, don't fix it!"
Why do you think it is important bands stay connected to where they started?
"It's really important to reflect on things; that's why we had some time off this time. I mean, what are you going to write about if you're always on tour? I have to go home; I have to let my wife get mad at me, I have to take the kids to school… I gotta go to the daddy/daughter dance; see my kid grow up, hang out with my buddies – I have to live life. I need to have a smoke and a beer, and that's what it's all about to stay focused and creative."
Do you find that when you go home you can easily shed off the 'rock vocalist' persona?
"Definitely! When I go home I'm daddy and I'm a husband. But, I'm also still the singer of a band – it all works together because I've been doing it for so long. Sometimes I feel like a superhero; once I put my gear on I'm 100 per cent the singer. I can do it without all this, but it's nowhere near as cool if I don't have my shit on! You're not gonna believe he's Superman unless you see him do something, but if he's got the suit on you know."
What made you decide to suit up again then, and hit the studio?
"It was just time. As a group we collectively said we would take a year and a half off, so when it came around we all just knew we were ready to get going again. I flew to Atlanta for three days, and me, John (Connolly, guitar), Morgan (Rose, drums) and Vinnie (Hornsby, bass) wrote some of the songs like 'Sickness' and 'Dirty'. Then I flew to St. Louis to write some songs with Clint at his studio. That was before we'd even gone to Elvis and his studio."
What was the mindset in recording the new album?
"Excited, ready and open to anything. It's all flowing again, so we're excited about it all – we're onto our fourth single for this record already."
What does it mean to be Sevendust in 2018?
"Very blessed – we'll never take this for granted. There's still so much more to do, but I feel like we're building relationships again."
Next year will mark your 25th anniversary as a band – do you have anything special planned for it?
"Wow, we're ready to be inducted into the rock n roll hall of fame! We're trying to stay in the here and now, but over New Year's we're playing some very special shows where we'll play the Home album in its entirety, and then in 2019 we'll be going out with Tremonti."
What is the biggest difference between when you first started and now?
"We're older, wiser… and bitter hahaha! I feel very comfortable saying that my job is as a singer and songwriter, even though we still get 'oh, you're still in a band? Well what do you do when you're not on the road?' it's like, I'm in a band, period."
What has been the biggest challenge Sevendust have faced so far?
"Almost having to shut everything down when it became extremely difficult financially. Somebody stole from us, but it only made us work harder. The love from the fans – the family – shows us that there's more to it all than money. It's about growing up together and all the lessons learned, and at this point it doesn't feel like we play concerts, we have family reunions. I'm 46 years old and I have three kids – but guess what, there's a guy up front who's 46 years old and he has kids, and he's been with us since he was 19 years old and now his kids are at the show too. It's a beautiful thing to be a part of."
You guys have existed alongside some of the biggest scene explosions that metal has had – the nu metal and metalcore booms of the 00s being a prime example. How do you think you guys managed to deftly navigate being able to take advantage of the increased interest, but also maintain your own style that said you weren't just part of a single scene?
"We don't try to pinpoint what we are. We're just country boys who love metal, rock n roll – all sorts. I think that's what's kept us around; we've never been like 'oh we're a nu metal band' or whatever, we're just a rock and metal band that's been around for 20-something years. We haven't changed what we do; we still love each other as brothers and we changed each other's lives."
What has been the craziest, most stand-out moment of your career thus far?
"Believe it or not, it was getting nominated for a Grammy for 'Thank You' at the 58th Grammy's. Ghost won the award itself – and I love that band – but it was so cool to be at the ceremony with my wife and kids, sitting behind Stevie Wonder. As a kid, watching the Grammy's every year was like 'oh my god, it's Michael Jackson!' and that's where the important artists were… and we got there for the 58th event. That was really cool – I'd love to come over here and get an award some point too, I don't care if it's made of sticks, we're just happy to get something. I hope we get nominated again!"
Do you think that represents a slight renewal of interest from "The Industry" in bands within the rock and metal sphere?
"Us getting nominated showed that the door was open to a lot of cats who might otherwise never get a mention. They're not completely shunning us – somebody out there is watching. Even if we don't see it on TV, there's a category for it."
What will 2019 hold for the band?
"Hopefully a lot of touring, and then getting down to write the new album!"
'All I See Is War' is out now via Rise Records.
Photographs by the author. Taken at Nottingham's The Rescue Rooms.
All content © Über Rock. Not to be reproduced in part or in whole without the express written permission of Über Rock.