By Jonni D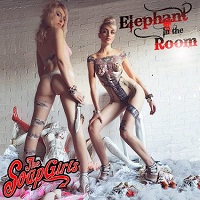 It seems that the release of the double album will never fail to be a bold move.  For anyone familiar with The Soap Girls, they'll recognize it as a known characteristic of the South African duo's previous artistic expression.  In their quest for female empowerment, sisters Mie and Millie have become infamous for their boundary-pushing live performances; challenging tired perceptions of "girls in a band" in a way that visually intersects a theatrical, almost burlesque take on punk rock with a confident realization of eroticism.  Of course, they've accrued their fair share of detractors – but shouldn't all good punk music piss a few people off? 
Following up the record that garnered them wider media attention, 2017's 'Society's Rejects', the sister's new project is a commendably fluid encapsulation of what the band has attempted prior to this record, while exploring plenty of new sonic terrains.  The concept of a double "album" is a questionable proposition in the digital age, but the girls avoid the pitfall of many acts that have fallen victim to over-bloating a release for failure of killing their darlings.   The Soap Girls manage to justify these nineteen tracks by demonstrating a broad range of dynamics and a knack for editing as part of the song writing process.
Lead single and opening track 'One Way Street' is propelled by a latter-day Ramones' style of instrumentation (think 'Mondo Bizarro' era), with an elevated chorus that hints at much greater melodic heights to come.  If you've ever wondered how The Butthole Surfers would sound through the creative prism of Amy Winehouse, then 'Charlie Brown' was made for you; with sultry, contralto vocals atop a sparsely produced, grungy backdrop.  They continue to demonstrate their penchant for earworms with the standout audio ecstasy of 'Sugar Gets You High', leaning into a more conventional 90's style of pop-punk.  That decade raises its head again with the Cobain-esque delivery of 'Fade To Black' and the pneumatic riffs of 'Fall Down', akin to mid-career L7 material.
When The Soap Girls move even further from their established sound, they do so with effective gusto.  'Ex-Girlfriend' is a vocally hypnotic outing with the sister's voices in tandem and a shimmering lead guitar line that would do Robert Smith proud.  Things get almost nü metal with the grooving low end chugging of 'I Stand Alone', opening with a scathing spoken-word introduction.  'My Development' and 'In The Name of God' allow the band to get a little more overtly political, with the former featuring the novelty of a pseudo-rap section courtesy of Redd-Valentino Debray.
Despite the clichés of the leaden double album, 'Elephant In The Room' is a breezy listen, traversing a wide range of alternative styles and standing tall as The Soap Girls' most impressive work to date.
'Elephant In The Room' is out now. You can get your copy HERE.
The Soap Girls are currently on tour. You can check dates HERE.
www.facebook.com/thesoapgirls/
All content © Über Rock. Not to be reproduced in part or in whole without the express written permission of Über Rock.