By DJ Astrocreep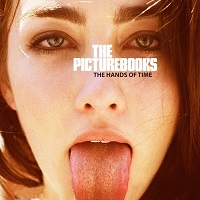 I first found The Picturebooks a couple of years ago, when they filled in at an HRH event, quite last minute. They enthralled me then with their soulful, blues-drenched brand of rock, to the point I made sure to grab them for a brief chat. With that all in mind, I delved into their new release.
'The Hands Of Time' is the first of their releases I have first heard at home, rather than a live setting, which always leaves me slightly hesitant as to quite how it will translate from their minimalistic yet betwiching live shows.
In this case, I'm happy to say that the experience was an altogether positive one.
Title track 'The Hands Of Time' has a delta blues feel to it, albeit a more up tempo one than may normally be attributed, providing enough of a beat and rock edge to the track to increase its appeal beyond the usual blues boundaries.  Similar can be said about 'Electric Nights', the other track from this release which has had a video released for it, which has a similar feel to 'The Hands Of Time'.
There are a couple of different feels in this album, going between the aforementioned heavy blues side of things, with others having more of a Rock feel, with a more minor blues tinge to their proceedings, though that undercurrent is there throughout the album and so should keep long term fans of this fantastic act happy. Songs like Rain are at a somewhat slower pace than the rest of than the above songs, but fit just as well into the album, providing good depth to the range of the song writing.
Overall, it's a worthy album that should appeal to a wide range of people. There's enough depth to cover some fans of alt-rock in addition to their more usual blues/blues-rock audience, with sufficient edge to the rock side to appeal to the more mainstream orentated crowd too. A very strong album that I would highly recommend for people to at least give a try!
'The Hands Of Time' is out now. You can get your copy HERE.

www.facebook.com/ThePicturebooks/
All content © Über Rock. Not to be reproduced in part or in whole without the express written permission of Über Rock.