By Jolee Flatman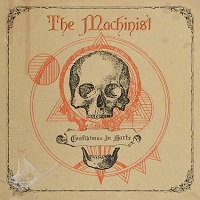 The Machinist, founded in 2012, are a ferocious foursome from New York. As an all-rounder, it's easy to say that they align with the death metal genre. However, the new album, is truly dynamic and diverse, mixing a variety of genes together. They bring a unique sound that will send shivers crawling down your spine. As someone who was not very aware of the band previously to this, on a first listen I have instantly become a fan, and I have no doubts the release will place a spotlight onto them. 'Confidimus in Morte' offers something for everyone, an album which needs to be on your radar.
'No Peace' is the debut single, setting the scene for the rest of the album as being gut wrenching; a journey of blackened nightmares. The tone of the song is slightly lighter than the other songs, but this isn't a bad thing. I mean, who doesn't enjoy heavier, more devilish riffs and breakdowns right? Sixth song, 'As you lie' is most similar to the single.
The whole album demonstrates Amanda Gjelaj's intense vocal range, there is no doubt that she is a truly talented woman. From her brutal hardcore tone, to screeching black metal highs, and eerie cleans. This insane range adds extra depth to the songs, making each one individual and memorable.  'Paradise Lost' would be my favourite pick from the album, and it is the perfect example of a song that outlines every vocal Amanda can do. The structure of the song makes it catchy, tied in with nasty elements that contain it to its genre.
'Predatory' presents a pissed off tone, bringing a lethal hardcore vibe. Many of the riffs are of a faster pace, which nails adrenaline into the listener. This song would be exceptional live, packed with relentless energy and fiery anger. One that would make a crowd go wild and provoke headbanging disarray.
The title of the album must not be missed either, it focuses on death. Which sets the atmosphere for many of the songs, which all have exceptional lyrical merit, encoding powerful meanings. The diverse backgrounds of each member create the foundation for presenting a range of social issues, from hypocrisy of religious institutions, to reclaiming a life after being assaulted. It is packed with raw emotion that makes a bold statement upon these issues.
To sum up the album, it is true chaos. It has got everything: gnarly riffs, filthy breakdowns, relentless solos, fiery vocals and catchy structures. This is an album to remember, this is an album that will change the success direction of The Machinist.
'Confidimus in Morte' is released on 12 April. You can get your copy HERE.
https://www.facebook.com/Themachinistnyc/
All content © Über Rock. Not to be reproduced in part or in whole without the express written permission of Über Rock.