Words by DJ Monk. Photos by The Dark Queen.
It was the gig clash from hell, presenting us with an equally damnable choice… a band who have been true stalwarts of the Belfast metal scene for the past decade, Death Of A Salesman, were paying their farewells at the city centre bar where I had spent the previous evening, while Hull heavyweights Sworn Amongst were making their Belfast debut just 'round the corner from ÜRHQ, supported by a truly stellar local supporting cast… there was only one way to make the final decision, and that was to toss a coin!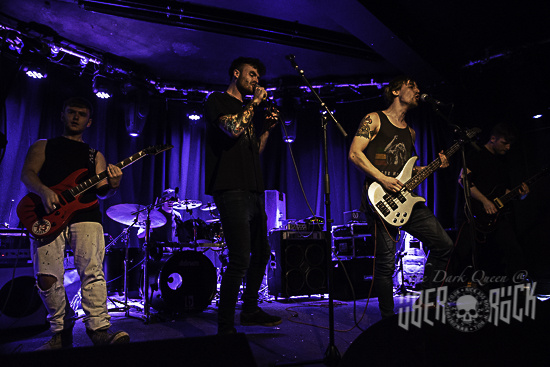 Openers Victim Royal are a young band who have come a long way in the last 18 months or so, since I first saw them in last year's Metal 2 The Masses competition, when I thought they were incoherent and unconvincing, to the tight little unit that battled its way through to the final this time around. But, tonight, there is something different about them, as they have a slightly revamped line-up: frontman Adam is now bass-less, with one of the guitarists (their Facebook page doesn't elaborate on who does what in the band) switching instruments. It proves to be a positive development, as it brings a new focus to their onstage presence, without a wall of four instruments between them and the audience. They display plenty of confidence, with the two remaining guitarists interacting brilliantly as they swap roles with ease, and they make good use of dual vocals as well. A tight set from a band who hopefully will continue to progress and develop.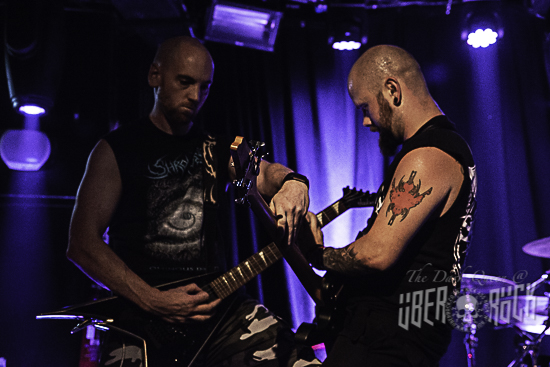 Next up are one of the ÜRHQ team's favourite Belfast bands, Cursed Sun. This current line-up of the band has really gelled in the last year or so, providing them with a focus and coherence which sometimes they had lacked, as they previously relied too much on the charisma of frontman Jones; how, however, there is much more depth to their collective performances. Despite some technical problems with Jonny's guitar, the bais deliver one of the tightest performances I have seen from them in quite some time, bringing a sense of rage about to explode like a Derbyshire dam at any second. Their fierce energy is contagious, as is evident from the madness in the pit and the chantalong to closer 'MDK187' (the new single, the video for which is due to drop any day now), which itself is titanic. "Burn this fucker down," sings Jones – and Cursed Sun did just that!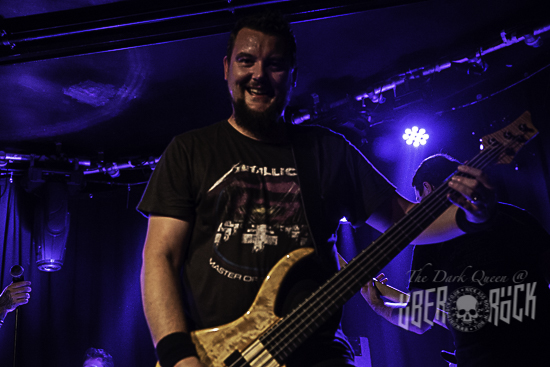 Next up, another of our favourite local bands, Ketos. Regular readers will know that I had been slightly disappointed by some of the band's recent live performances, particularly during the final of this year's Metal 2 The Masses competition, when I felt that they hadn't quite brought their A game into play. But, tonight? Well, they more than ably rose to the challenge of following the previous incendiary set by pouring yet more fuel on the flames: it's just as well that the local fire station is just across the street, as the band ignited an inferno of metallic flame that burned with the heat of an exploding volcano. They were tighter than a Ballymena man's wallet, and their blistering set blew away any previous doubts, showing that they are most definitely back at the top of their potential.
Unfortunately, a proportion of the crowd have decided to head off to the DOAS farewell show mentioned at the outset of this piece and therefore numbers have dropped off slightly by the time Sworn Amongst take to the stage for their somewhat foreshortened headline set. Nevertheless, the quintet take to the task in hand with the energy and enthusiasm of true pros, frontman Darryl Jones cajoling and confronting the crowd to give them as good as they are giving themselves. Their sound is taut, raging with the unbridled fury of a river in full flood, as the band pour every ounce of their passion into a ferocious set which turns the room into even more of a sweatbox than their predecessors had created. 'Set This World Alight' is an appropriate ending to another fiery set: it's just a pity it was so short… hopefully they'll play for a bit longer when they return this way next Spring!