By David O'Neill
When I found out Stone Broken were playing the Globe on their homecoming tour, I had to get tickets.  Then to find out that the support bands were Those Damn Crows and Everyday Heroes I was glad I did.  All three bands have impressed me every time I've seen them over the past few years and they're all on the way to superstardom in my opinion.  There is a place in the current music scene at a very high level for three bands who play solid unassuming pop rock whatever the style and these three do it in spades from different styles. 
It helps that they are all very good musicians and song writers too.  Put that into the ability to convert the recorded music to live performances and stage presence and I knew I was going to be in for a good night.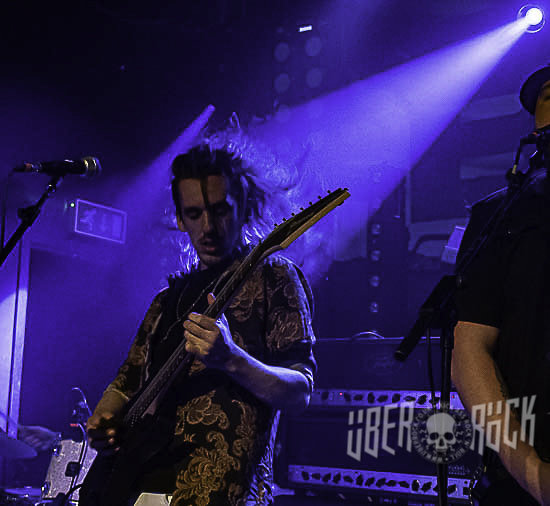 If you haven't heard of Everyday Heroes yet you soon will.  They have two solid EPs out and the video for the new single 'Soul to Save' matches the quality of the music.  If you like southern blues-based rock like Black Stone Cherry you really should get out and see these guys.  They're as tight as rusty nuts on a Kentucky tractor!  The Newbridge based quartet is fronted by the gritty power vocals of Luke Phillips and is backed by the one of the most solid rhythm sections of Lewis Watkins and Jay Haynes. Philips intersperses his stint on vocals with lead guitar which is supported by Daniel Richards. All the band take stints on backing vocals too.  Opening up their set with the latest single 'Soul to Save' from their first album, to be released later this year, the guys soon had the crowd in the palms of their hands.  Followed by 'Take Me Home' from their second EP the guys have developed into a well drilled music machine that is overdue the break this mini tour is likely to support.  'The Ballad of Robert Johnson' lilted and rocked through blues into the last song 'Delilah' (NOT the Tom Jones one) with the crowd enthusiastically joining in.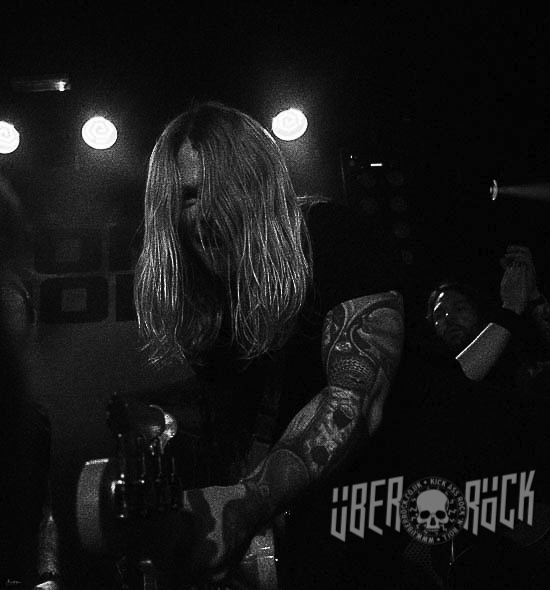 There isn't a music writer in the land who isn't raving about "The Crows".  Another South Wales -based band that have had a meteoric rise up the ranks to gain headline sets and support sets on bills with bands that have been around a long time.  Shane and the boys always put on a good show and the energy is building along with their reputation.  Airplay on Planet Rock is a regular occurrence and performances at Ramblin' Man last year and this year's Download will only add to their reputation.  Top that off with a nomination for the best album on this year's Planet Rock awards and they are beginning to fly like a murder of crows!
Kicking off with 'I Don't Give A Damn', the Crows whipped the crowd up even further.  They obviously enjoyed being back in Wales with the odd crowd comment about the rugby getting Shane to say how much trouble they got in in Oxford when he did this on the Saturday.  As this is the second review from ÜR in as many weeks, there is nothing more to add other than Those Damn Crows are Damned good (sic).  They deserve to be huge and taking part in Steelhouse at the return of the Four Nations Challenge on the Friday night will be a hell of a battle.  Ending with 'Rock and Roll Ain't Dead' and climbing up the stack Shane almost got himself stuck.  Energy and enthusiasm is always maxed out when the Crows are in town.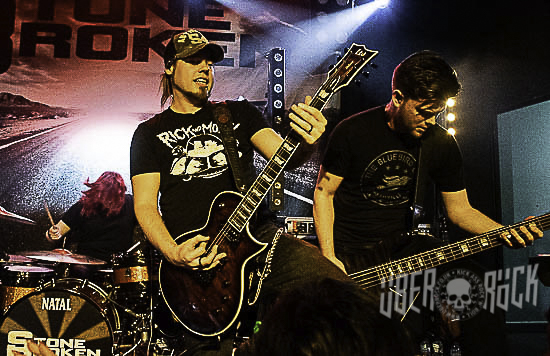 As if that wasn't enough, I get to see another performance by Stone Broken on their 'Home' tour following on from a successful North American tour.  The last time I saw them was in Pontypridd at the Muni before its unfortunate demise and they embarked on the US tour.  After over an hour of their back catalogue, huge appreciation of the music scene in South Wales and supporting two Welsh bands I can only say that Rich, Robyn, Chris and Kieron appear to be very humble and happy to be where they are.  They all had broad grins across their faces throughout the set and musically they are slick and polished.
Whilst most bands get praised about their main artists, I have to say that all three bands have outstanding drummers, full of energy and technical ability but predominantly enthusiastic.  All these bands deserve bigger things.  If you get a chance you really need to see this bill.  There's absolutely no mismatch on it.  If you like one of them, you will like them all.  As one guy next to me in the audience said, "Ive not seen any of these before but I will definitely be looking out for them all again".
Stone Broken have been confirmed as special guests on Black Star Riders' 'State Of Grace' tour in October.
All content © Über Rock. Not to be reproduced in part or in whole without the express written permission of Über Rock.