By DJ Monk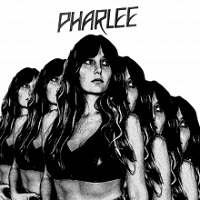 San Diego troupe Pharlee feature a line-up of musicians who should be familiar to erstwhile fans of the US West Coast blues/doom scene, bringing together as they do Budrows vocalist Macarena Rivera, Harsh Toke guitarist Justin 'Figgy' Figueroa, Sacri Monti bassist Dylan Donovan and Zach Oakley of Joy and Volcano, who swaps guitar for drums on this debut six-track offering. This particular collaboration should also be familiar to European audiences, as they were part of the 'San Diego Takedown', alongside the likes of Earthless and the constituent members' "other" bands at last year's Roadburn festival.
Musically, Pharlee inhabit the sort of psychedelic and blues tinged doom that will be familiar to many followers of this particular subsection of the recent revivalist movement, hitting a groove that lies somewhere, in latter day terms, between Blues Pills and Jex Thoth.  A massive Hammond sound swells and throbs in the background, truly evoking that all important '70s sound, as the rhythms propel the songs with intensity and panache in equal measures. The riffs are measured and precise, with nothing left to chance yet nothing needlessly extraneous cluttering up the sound and thus adding to the final impact of each of the six tunes.
The highlight, however, is Rivera's vocal, which is both ethereal and earthy, often used as an additional instrument rather than overtopping those of her bandmates, melding beautifully into the overall framework of the song structures, and the melodies in particular. This is particularly highlighted on the likes of 'Creeping', where Rivera eschews traditional lyrics in favour of augmenting the overall sound with a series of wails and almost scat-like vocalizations.
'Pharlee' is an album that grooves and gyrates with a celebratory vibrancy which brings a smile to your face while getting your feet tapping as you resist to reach for that nearby air guitar (or organ – ooh err, missus). It is also one which definitely will appeal to fans of the above-mentioned blues/doom/psych revivalist genre, and therefore deserves to go straight to the top of your shopping list if you haven't bagged a copy already.
'Pharlee' is out now. You can get your copy HERE.
All content © Über Rock. Not to be reproduced in part or in whole without the express written permission of Über Rock.