By DJ Astrocreep
A new venue to me, Tank, hosting a rock/metal all dayer for free seemed like a damn good way to start my Saturday off, before heading into my DJ residency. And with the likes of Witch Tripper and Deified appearing on the bill, it was a damn good line up! That in mind, I head across on local transport to take in some heavy riffs. A small bar with a strong DIY ethic and spirit awaits me, along with a number of the bands already in good spirits.
Our first band of the day are Shrike, a five piece, Preston-based melodic death metal act. They've brought people along with them, so the band space is pretty full between the fans and other bands and they're quickly owning the area. With more than a hint of political nature to the lyrics and a strong musical backline, they perform an adept set that quickly wins over those watching, with the headbanging a clear indication of how well they go down.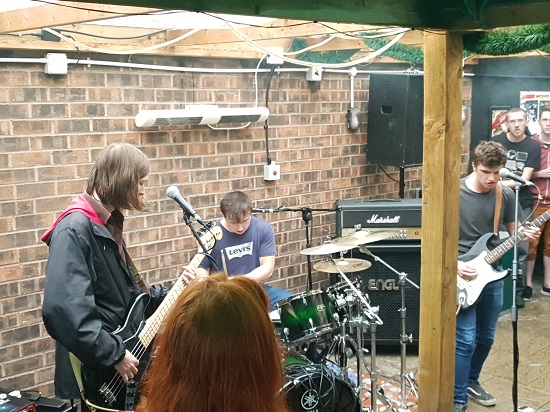 Newton-Le-Willows hard rock act Serratone are next on the scene and quickly getting into their groove. They play a mix of punk 'n' roll and groovy hard rock that works quite well in tandem and this multi-faceted approach makes for a quite interesting set. While not on the same scale of heaviness as Shrike, there are vocal melodies alongside some pretty rocking action and there is plenty of applause and cheers of appreciation for a well-played, enjoyable set by some very competent musicians. The fact that they also played two brand new songs live as part of the set shows a strong belief in their own work, a commendable trait.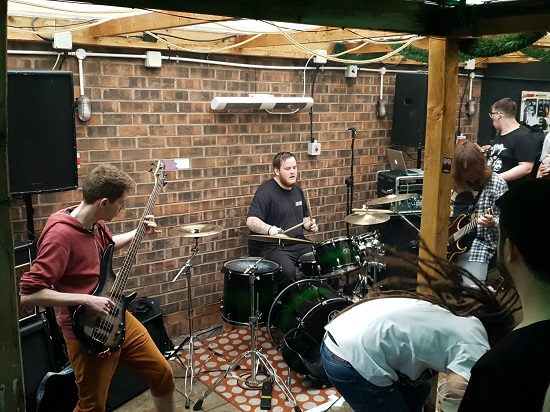 Inhabit are next up and vocalist Chop is a livewire from the very start, driving the audience back against the surrounding walls with his Energiser bunny energy. They're a heavy nu-metal act, with a Rage Against The Machine meets early Enter Shikari feel to their sound. They come across as engaging as well as more than able musicians, showing that their five-year history has been time very well spent in creating good material. They engage well with the crowd and hold their attention, which is not so easy, given the rain and cramped circumstances of the gig. A strong set, which the carousel of banging heads around me attest to.
Sabbath-like basslines? Lemmy style vocals? Yes, it's Witch Tripper time and their brand of stoner and blues rock goes down as well as over. On their 54th gig this year, the Mansfield rockers have heads nodding and feet tapping from the off, demonstrating quite why they're building such a good reputation for their live shows, even allowing for the change of drummer at the start of this year. With a Bloodstock performance to come next weekend, on the Sophie stage on the Sunday, they'll be the band a lot of the festival goers will both love and hate as they struggle to shake off the previous night's hangovers, with their funky, groove laden rock already a proven hit right across the UK. Another enthusiastic, enjoyable set for the busy crowd around us.
Witch Tripper are constantly gigging. Check their Facebook page for their latest listings.
Sadly, at this point, work beckons, so it's time to leave and miss the last two bands after a great day all round with some fantastic bands on show.
PHOTO CREDIT: Photos by the author.
All content © Über Rock. Not to be reproduced in part or in whole without the express written permission of Über Rock.