Written by DJ Monk. Photos by The Dark Queen.
The last night of the sometime Love/Hate frontman's annual jaunt around the highways and back alleys of Europe, this was also the third in a triumvirate of very special "stripped back" shows which saw Jizzy take things down to the bare bones, accompanied by just a guitar and that of his erstwhile sidekick Stevie Pearce as he interweaved acoustic renditions of some of his best known songs with a carefully harvested collection of suitably debauched stories from the early days of his career… Yep, it promised to be one of those special "fuck you if you weren't there to hear it for yourself" nights…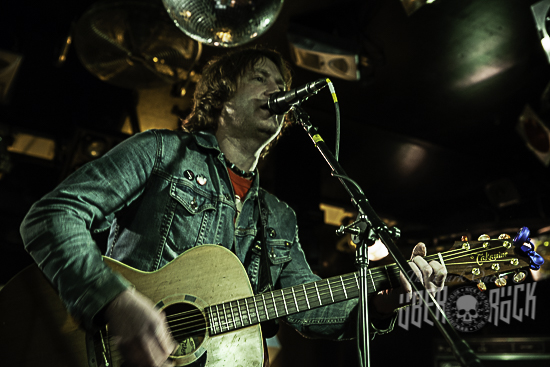 The task of setting the scene, and warming up the surprisingly, and disappointingly, small crowd fell to local songsmith, and gig promoter, Philip McCarroll, with a mixture of solo material and tunes from his time as frontman of one-time local heroes Pay*ola. After joking about the only people in front of the stage being DQ and another photographer, he informs he is "going to put the c*nt in country".  Like the headliner, he has stories of his own, most of them told in the lyrics of the likes of 'Love And Money' ("two things I've failed miserably at") and 'From George Best To John Lennon' (about commuting between the two airports of the same names). "Everybody needs a New York song," he tells us with a wry smile: "this one happens to be called 'Going To Warsaw'…" Of course, it's about the infamous NYC club of the same name, and he prefaces it by explaining how Andrew WK sneaked him into a gig therein. It's a pleasant set of nicely crafted songs and sets the atmosphere nicely…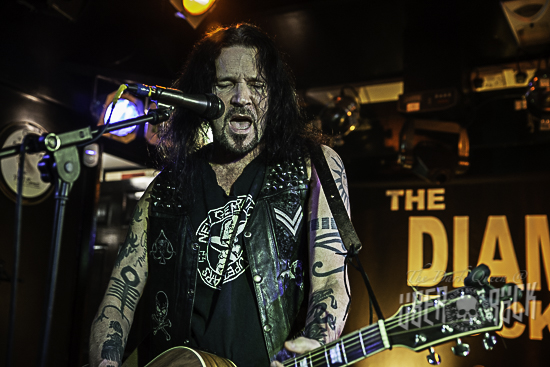 "Are we ready" asks the main man as he straps on his guitar and opens that throat for the distinctive sound of 'Wasted In America': well, it's always good to get an early pop, especially in a show of this nature, in which people don't know quite what to expect… What we do get is a balancing act – three songs, story, three songs, story… And Jizzy is obviously enjoying this format: "it's good to strip it down and let you know who can play and who can't, who is wearing the wig and who isn't" he tells us at the end of the first trio of tunes…
And the first story takes us back to 1992 and Love/Hate's sojourn as support to Ozzy on the 'No More Tears' tour. Jizzy tells how they joined the tour entourage with "visions of debauchery" but were "freaked out" to find out that the legendary frontman was going through one of his sober phases: "it was all life cycles and sit-ups back stage", where booze was also banned, so they had to sneak brown bags onto their tour bus, where they were joined in late night drinking sessions by Zakk Wylde. The tale traverses Europe, stopping off in Berlin – "I've never been told to fuck off in so many languages" – and ending with getting punched by Wylde in a Milan restaurant (but, of course, it all ended amicably).
After another batch of songs – including a lively 'Straightjacket', some nice Spanish guitar from Pearce on 'Spinning Wheel' and an aching rendition of 'Love Hurts (heck, the song could have been written for Pearl) – it's  time for another lengthy tale from the road, this time Skid Row's 1991. He recalls that the tour kicked off in Belfast, where they were instructed not to talk about politics: "of course, what's the first thing Sebastian does?". He also recalls how he got into a fight with the legendarily egotistical singer, which resulted in Love/Hate almost getting kicked off the tour: but, like the tale before it, all was well that ended well!
Another triptych of songs – including 'You Don't Know What It's Like', which Pearl describes as "a love song that's not a love song, because you can't tell the girl it's about her", to a wry smile from his wife Christina, keeping an eye on proceedings from the crowd – before Pearce leaves the stage once more, prompting the singer to say he's "got the best job here, sitting backstage drinking beer while I do all the work!". Yes, it's 'Jackanory' time again, and this time it's the story behind the singer's infamous crucifixion on the Hollywood sign – although two guys sitting right behind me seem more interested in their own stories than those they supposedly paid to hear! Anyway, I'll not ruin the story for you, dear reader, as no doubt it will be recounted on another road trip somewhere down the highway, but it is told with a clarity of memory and a sense of irony, as well as the ability to laugh about such potentially serious events in retrospect.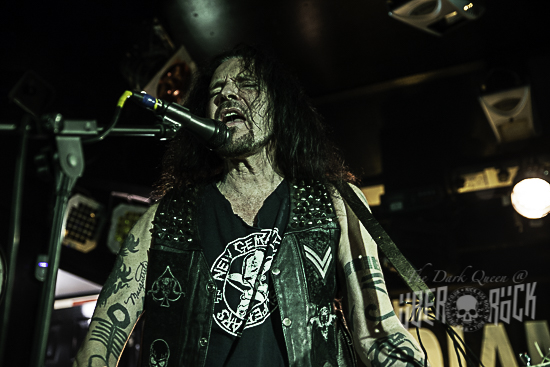 There's time for one more batch of songs, as Jizzy asks 'Do You Wanna Get High?' before declaring a 'Blackout In The Red Room' and musically the night is over as, despite the inevitable calls for "more", Pearce declares that they've run out of songs, "acoustically anyway". But more we get as Jizzy returns to regale us with one more debauched tale – and his story of being late picking up a stripper kept him out of jail is worth the price of admission alone!
The songs were well chosen, a good balance of crowd-pleasers from his Love/Hate career and some of his favourite solo ones. The stripped back format showed off the depth of Pearl's voice, as some of the nuances can get lost in the walls of amplification needed for electrified gigs, and also that it is still rich and powerful. As for the stories… well… c'mon Jiz man, on the strength of tonight alone, there must be a whole book of 'em waiting to be unleashed on the rock 'n' roll Überverse!
PHOTO CREDIT: All photos © The Dark Queen/Über You can view our full gallery of photographs HERE.
All content © Über Rock. Not to be reproduced in part or in whole without the express written permission of Über Rock.