By DJ Monk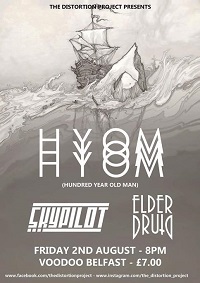 Belfast was a riot of colour as the city prepared for its annual Pride celebrations the following day, but I was heading into the blackness of my favourite venue for a dose of solid gloominess at what would prove to be the first of four back-to-back gigs over the course of the weekend and the first visit to UR's home city by Leeds post metallers Hundred Year Old Man and this Bloodstock-themed gig.
Now, I've always been an advocate of bands having a strong supporting cast, in order to both push the headliners to their absolute limits, and also to give fans value for money. This is an ethos that tonight's promoters, The Distortion Project, also share, and this evening was no exception, with Metal 2 The Masses finalists Elder Druid kicking off proceedings in fine style. This is a young band who, apart from a few minor glitches along the way, continue to progress and improve every time I see them, with Gregg McDowell in particular having developed into an extremely impressive frontman who has gone from being quite shy during their early shows to a commanding onstage presence. Their brand of dense, dynamic is delivered with the consummate ease of a band becoming more and more comfortable with themselves, and there is a suitably dark vibrancy to the overall feel of their superb set.
Unfortunately, the crowd seems to have thinned out a bit before veterans Skypilot warm themselves up for their trip over the Irish Sea to the fields of Derbyshire this coming weekend. However, kicking off with 'M.O.A.S.T' and then really hitting top gear with 'Superdupernaut' – the first single from their excellent, ÜR-approved 'The Affront' album – the trio's experience shines through as they deliver their brand of spacey, psyche rock with their usual panache and precision. Tighter than an altar boy's bowels before holy communion, their thick grooves wind and twist their way into your aural cortexes in a fashion which is impossible to resist. It's a focused set, and one which is very much a dress rehearsal for their Jager Stage appearance at Bloodstock this coming Friday: I predict there won't be much left of the tent after these bais have levelled it!
As the changeover occurs, I stare out the window into the gathering darkness pondering the irony of this gig taking place on the same day as a 100-year old veteran of the Battle Of Britain shuffled off into the skies… but my reverie is short-lived as the venue is plunged into complete blackness and smoke rolls from the stage, before we are pummelled by a sound that is heavy, gloomy, dense and dank – and that's just the guitars! Over the next hour, HYOM bring a sense of dark ecstasy that is as exciting as it is morose, as iridescent as it is forbidding, creating a mood which perfectly matches the nocturnal humidity both inside and outside the venue. Big, booming bass lines lead into madcap aural disharmonies that mesmerize and enervate, while at the same time questioning each and every one of your senses and stretching your sense of cognisant reality to its very limits. It's a totally crushing experience and a first-class performance from a band who have worked hard to attain this level of nigh on perfection.
All content © Über Rock. Not to be reproduced in part or in whole without the express written permission of Über Rock.