Written by DJ Monk. Photos by The Dark Queen.
Despite not having visited this particular corner of the Überverse for nigh on the first 30 years of their career, Girlschool have become (relatively) regular visitors over the past decade, having first headlined the Diamond Rock Club in the Antrim hills nigh on nine years back and then hit this very complex twice as an opening act, first for Saxon (when they came extremely close to blowing both the headliners and main support Fastway off the stage) and more latterly Rose Tattoo when the Aussie rockers paid their long overdue return just last September. Now, just ten short months later, the original heavy metal femme fatales were back, this time deservedly headlining in their own right.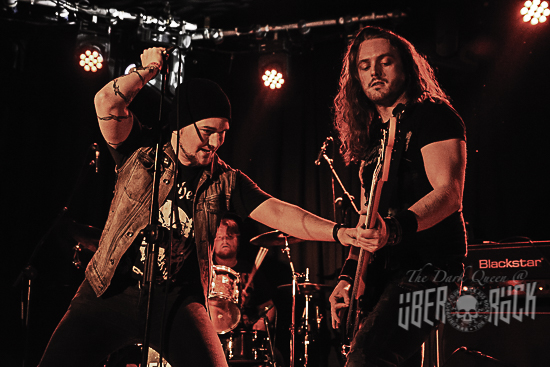 Openers Dead Addiction suffer technical problems at the beginning of their set, which seem to hamper them getting fully into their stride, as they first take us down the back alleys of 'Sin City' to experience some 'Chaos'. The last time we had witnessed this rising young band, there was something seriously missing from their performance, be it commitment or passion: tonight's performance is somewhat more coherent and confident, but there just seems to be something not sparking. I have a lot of admiration for this young band, but I have seen them do much better. They just don't seem to rise to the occasion: yes, they're tighter than a priest's foreskin, but they come across like a pub band drafted in at the last moment, with a severe lack of onstage motion (and, dare I say, emotion).
Frontman Joe does up the ante slightly when he takes to the barrier to seek the back up of the still disappointingly sparse audience during 'Warning Shot', but the cajoling and encouragement really should have come earlier. A real shame as, as I've said before, Dead Addiction are an exciting young band, but it seems that they've hit a wall during their past couple of shows: hopefully they can ram their way through it in double quick time and start to fulfil their undoubted potential asap.
The above-mentioned technical problems continue at the start of Girlschool's set, as Denise needs work done to her cymbals: fortunately, as Kim points out, they "have a young man to sort that". And such minor foibles do nothing to break the ladies' stride, or humour: "she's got a screw loose," McAuliffe says of the only other remaining founder member, adding "but you gotta have to be a member of this band for 41 years, or whatever".
Over the next 80 minutes or so, Girlschool prove that you are most definitely never too old to rock 'n' roll, displaying an energy and enthusiasm that many bands half (or, if I may be so bold, a quarter) of their ages would sell their guitars to attain. These ladies just love rockin' out, especially live, and are determined to do just that, as they blast through four decades worth of classic anthems, plunging their way through their comprehensive archive with thumper after thumper which have the now rammed room almost drowning in the sweat being generated.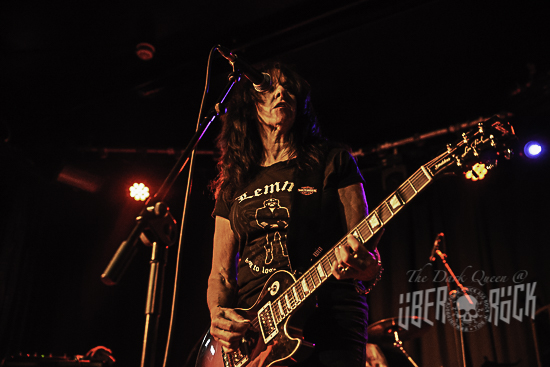 One thing is very obvious: Girlschool are still determined to have fun doing what they do, and their original punk-fuelled attitude is still very much to the fore, as hit after hit bounces and pounds, from 'Hit And Run' through 'Screaming Blue Murder' to 'Take It All Away', 'Race With The Devil' and the ever iconic 'Emergency'. There is plenty of humour, with Kim joking about having to put on glasses to read the set list (which Jackie has already destroyed by dancing on it in her fuck me boots), and pathos, with tributes to fallen comrades such as Kelly, Lemmy, Philthy and Fast Eddie: however, it is this spirit which fuels their set and ensures another memorable performance from a veteran band who still have plenty of firepower in their arsenal and show no sign of stepping aside anytime soon.
PHOTO CREDIT: All photos © The Dark Queen/Über Rock. You can view our full gallery of photographs HERE.
All content © Über Rock. Not to be reproduced in part or in whole without the express written permission of Über Rock.