By Rich Hobson
Formed at the tail-end of the original punk explosion and a formative influence on the burgeoning hardcore scene (and later noise rock derivative), US underground legends Flipper have come screeching into the station on their 40th birthday as a band. Joining them for the celebration are legends in their own right, guest musicians Mike Watt (of Minutemen and fIREHOSE fame) and David Yow (of Scratch Acid and Jesus Lizard fame) adding an extra layer of brilliance to an already excellent legacy. Arriving in Nottingham as part of a special UK tour (including an appearance at the UK's premier punk festival, Rebellion), Flipper draft in ÜR-approved local act Grey Hairs as main support.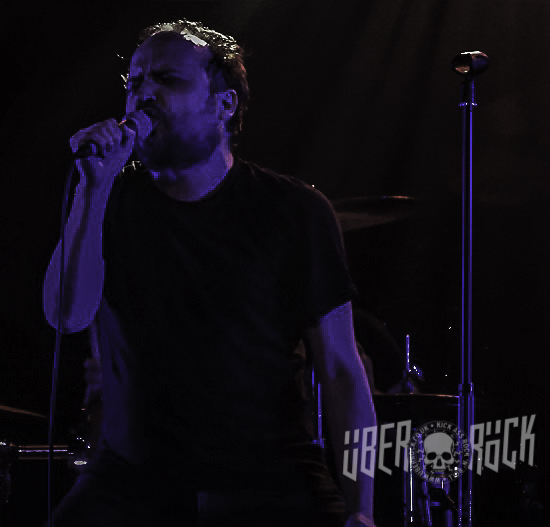 A band that has shared stages with the likes of Sleaford Mods and Hey Colossus in the past, Grey Hairs have already made in-roads with fine alt punk types in the UK, making themselves a worthy proposition for playing alongside tonight's headliners. Sounding somewhere between The Stooges and The Velvet Underground (with shades of Mclusky and The Melvins thrown in for good measure), Grey Hairs put on a set which bristles with energy, thick grooves and odd time signatures making for an unpredictable bit of sonic fun. It doesn't hurt that a large part of the set lurches with proto-sludge nastiness, hammering away with a rhythmic precision that lodges deep in the spine and send synapses firing off with delightful heaviness.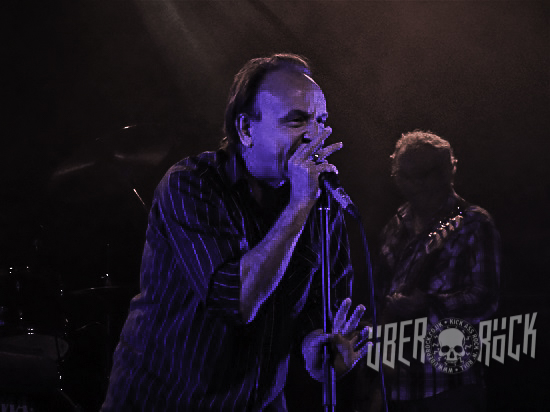 Flipper take to the stage with absolutely no fanfare or preamble, the band limbering up quietly. It isn't until David Yow appears that bedlam is truly unleashed. Hopping straight off the stage and gripping a fan near the front of the crowd, Yow roars his way into set opener 'The Light, The Sound, The Rhythm, The Noise' to signal that all bets are off, the next hour-and-a-bit spent clattering around the crowd, grabbing onlookers and getting up close and personal with nigh on every member of the crowd. These days its taken somewhat for granted when hardcore acts head into the crowd and prowl the audience, but few do it with the genuine unhinged quality that Yow brings to the game – he truly is something different, popping up and menacing the audience with jump scares like the schlockiest B-movie in town.
It wouldn't mean a damn thing if the band couldn't play though and play they most certainly do, the roaring rhythm section of Flipper letting loose like an engine from hell, all power and groove that makes it impossible to hear and not stomp along. The bass rumbles so low that it seems to emanate from the depths of the soul, Yow's almost manic howling along to songs like 'Ha Ha Ha' turning this into a bad-trip deleted scene from Terry Gilliam's take on 'Fear and Loathing in Las Vegas'. At their most visceral, Flipper sound like a warped vinyl spinning of punk's first wave, their jangling, wailing guitars and dissonant basslines sounding like a record melting under the pressure and weight of the music being played. Take 'Get Away' – a song akin to hearing The Buzzcocks jammed into an active industrial oven but playing till their very last, 'Titanic' style.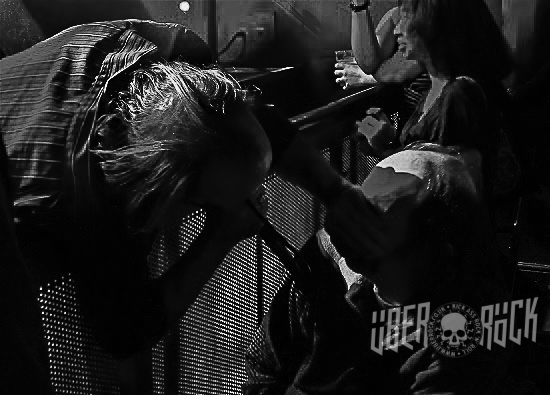 Its hard to truly express what the Flipper live experience is like, the show a very precise take on anarchy that evokes the punk traditions of taking things to the very edge of oblivion and keeping it just sane enough to function. Yow shotguns cans of lager and slams his way through the set, his sardonic takes offering up a sense of levity to counterbalance the sheer lunacy of it all. Whether sticking his hands in a punter's pint or being sent tumbling into the barrier, only to get up and knock the crowd over like a live game of punk patron bowling, Yow is of a breed no longer made, complimenting the anarchy of Flipper in so perfect a manner you'd think he'd been part of their DNA since day one.
Forty years on from their inception and still rumbling with the kind of nastiness that so many have tried to replicate but so few have managed to achieve, Flipper are the primordial ooze that so many others have spawned from over the decades. Still a vital experience that harkens to punk's earliest forms, Flipper should be seen by anybody with even a passing interest in the genre, the closest thing you'll find to mainlining punk's very DNA. Let's hope it won't be long until Flipper (or indeed, Messrs Watt and Yow) come back.
PHOTO CREDIT: Photos by the author. You can view our full gallery of photographs HERE.
All content © Über Rock. Not to be reproduced in part or in whole without the express written permission of Über Rock.