Written by Rich Hobson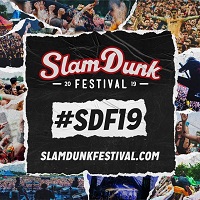 Whilst heavier bands certainly haven't been ignored in past years (the likes of Skindred, Heck, Architects and While She Sleeps – amongst many others – all popping up), the 2019 iteration of Slam Dunk seems to be going harder than ever with the announcement of it's full Impercion Stage. Headed by post-hardcore luminaries Glassjaw, the stage features the likes of Angel Du$t, Turnstile, Cancer Bats, Knocked Loose and The Bronx, as well as the return of British hardcore heroes Gallows. A veritable who's who of movers and shakers in modern hardcore, the stage will celebrate a genre which is truly enjoying time in the sun right now – something which will hopefully be literally replicated on the day!
This announcement comes in addition to the previous announcement that Slam Dunk 2019 will also host the first ever UK leg of Punk In Drublic, a stage curated by ska punk champions NoFx. Headlined by NoFx themselves, the stage also features Bad Religion, Less Than Jake, Lagwagon, Millencollin, The Interrupters, Mad Caddies, Anti-Flag and The Bombpops.
With two full stage line-ups already announced and names like All Time Low, The Menzingers, Simple Plan and Bullet For My Valentine popping up variously elsehwere in the line-up, 2019's iteration of the festival looks to be an enormous event spread across two dates.
Slam Dunk lands in Leeds' Temple Newsam Park on Saturday 25 May and Hatfield Park on Sunday 26 May 26. An immensely popular event which has helped build the profile of some of rock, pop punk and alternative's biggest names, Slam Dunk is now in its 13th year. Previous years had seen the festival spread across three dates (Leeds, Midlands and South), but this year the Midlands event has been dropped while the Leeds event has moved to a bigger home at Temple Newsam Park.
Tickets for both events are on sale now, for both standard tickets (priced at £59 each) and coach packages for travel to and from the event.
More line-up announcements are expected in due course, including a second heavy stage which organisers have confirmed will not clash with the Impericon Stage.
For more info, visit the official site.