Written by David and James O'Neill. Photos by Bandtogs.
Whenever those good old suvern boys Black Stone Cherry make one of their frequent trips across the pond to this 'ere Über Kingdom of Rock 'n' Roll, usually their first gigs are in Wales, as is this one prior to going to slay the faithful at the following weekend's Ramblin' Man Fair down on England's south coast. And where better to start than in the majestic surroundings of Cearphilly Castle – and with narry a cheese roll in sight?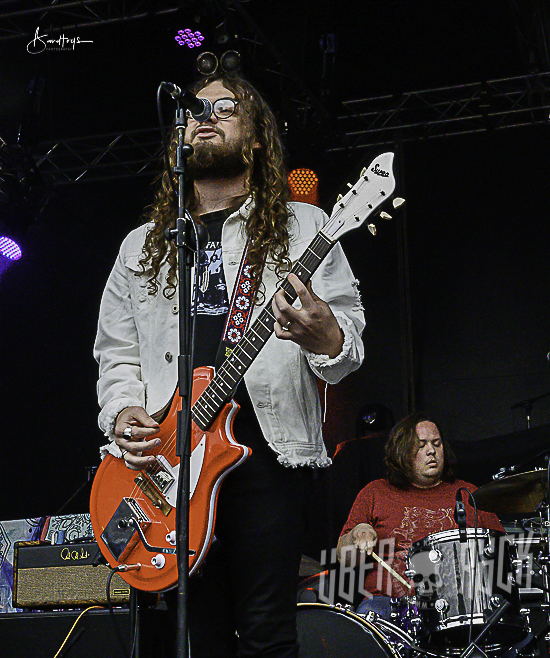 Opening for someone such as Black Stone Cherry is a tall order for any band, never mind one who hasn't played in the UK before. However, Otis – a four piece from Glasgow Kentucky, so not far from BSC's home county of Edmonton (about 16 miles as the crow flies) – are no throwaway support. They have been touring since 2013 in places as far flung as Australia, Germany Italy and France (and the majority of the states of the US).
They came on to the sunshine breaking out over Caerphilly Castle.  In a country where summer is just where the only way you can tell the difference is the rain is warmer and the days are longer it's a welcome arrival!  The four-piece kicked off with the event with some good ol' fashioned blues-based southern rock akin to the Allman brothers and you can see why their supporting The Allman Betts Band on their European tour this summer.  As southern rock goes, it was so laid back it was almost horizontal.  Whilst they're not the most animated band to watch (even the drummer) it was a good start to the evening with tight stabs and stops between all the protagonists.  Citing all the greatest southern rock influences and with supporters like Billy F Gibbons, it looks like these guys are on the up (sorry for the pun).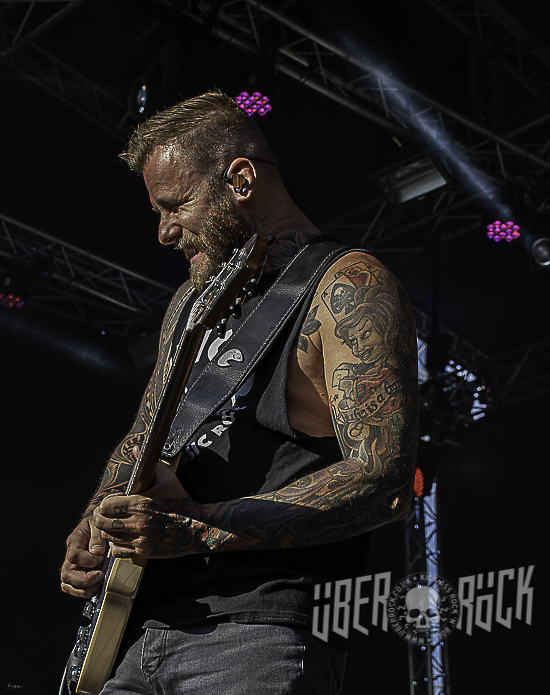 Kris Barras is rapidly making a name for himself.  He may have been an MMA fighter but his songwriting and musicianship shows many years of listening to a wide variety of music from his late father's influences stamped all over it.  He has a superb melodic lead tone accompanied by a punchy kick and great sound. The music is heavily riff driven and his growls voice is well backed and harmonised by the rest of the band, especially Elliott on bass.  The music has a super groove with bouncy riffs throughout the set.  Barras is also no mean guitarist, displaying many incredible speed and ligato runs.
The cover of Led Zeppelin classic 'Rock n Roll' easily nailed the changes in style from blues to rock.  Once again, the re-emergence of the Hammond organ displays that the instrument still has a valid place in rock music in the right hands.  The new album is released in September and this is followed by another European tour, which you should all get out and see.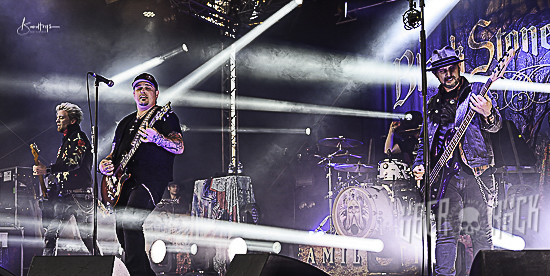 A bit of a long swap to the headline saw a space that could have readily been filled (and should have in my opinion) by a local band who are similar to the evening's offerings – Everyday Heroes. I'm afraid someone missed a trick here.
With the sun blazing the irony of opening with 'Rain Wizard' was not lost on the crowd of nearly 2000 people.  Dry ice pillars threw CO2 high into the sunny night sky cooling off those of us in the photopit!  'Me And Mary Jane' was accompanied by green lighting appropriately!  Ben Wells and Jon Lahon continue to provide huge stage presence and energy. Even Chris Robertson moved more than he has in the 15 or so times we have both seen the band.  Just before the pre-chorus an instrument drop out was accompanied by the band harmonising. Spot on finish.
Towards the end of 'In My Blood', Robertson stopped the music to berate some beer bottle throwing imbecile and stated the next person to do so would be booted out and never attend another show – good effort Chris.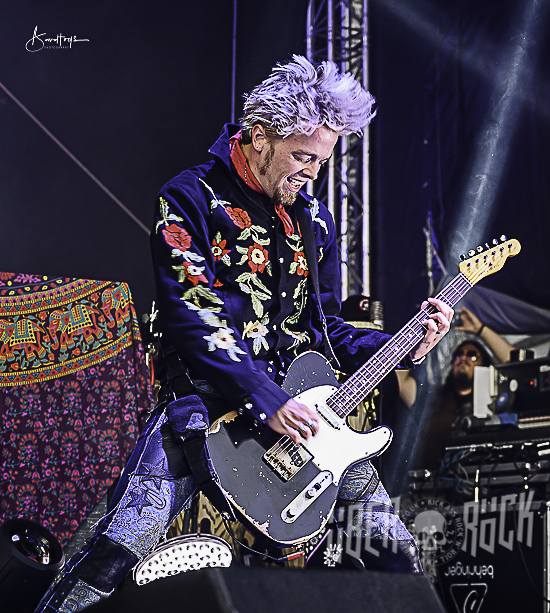 As with all BSC shows none of the tracks are musically identical to the album version – and why should they be? Doing this maintains the audience (and band) interest, making every gig unique.  In the middle of 'Cheaper To Drink Alone' the band broke into a cover of 'No Diggity', prior to the encore.  As usual, the encore was 'Peace Is Free' – however coming back on in Welsh football jerseys was a nice touch.  However, if their PR knew the audience better this part of Wales is more into rugby and this would have been more appreciated, I'm sure.
Now put almost 2000 "Welsh" people together and asking them to sing in a Welsh castle… it's priceless and even a bit special.  Well done Chris, Jon, Ben and John Fred. You are one of our favourite bands and I for one will always see you on tour.
The tour concludes at the Ulster Hall in Belfast tonight (Thursday 18 July). All three bands are also appearing at Ramblin' Man Fair this weekend: the Kris Barras Band play the main stage tomorrow (Friday 19 July), Black Stone Cherry headline the main stage on Saturday (20 July) and Otis play the Outlaw Country stage, also on Saturday.